Softball to open season with seven games in five days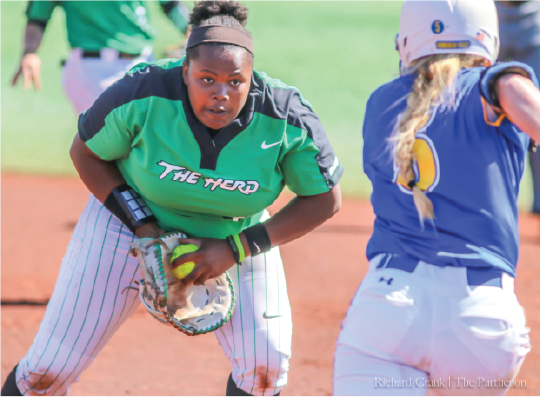 Kicking off the 2021 season with a double-header against Akron Wednesday, the Marshall softball team is scheduled to play seven home games in its first week in action. The Thundering Herd Round Robin takes place Friday, Mar. 5 through Sunday, Mar. 7.  
Bowling Green, Saint Francis and Valparaiso will travel to Huntington to take place in the round robin.   
The Thundering Herd is slated to take the field against the Bowling Green Falcons at 1:30 p.m. on Friday, Mar. 5. Marshall and the Valparaiso will meet twice — once on Saturday, Mar.. 6 at 11:30 a.m. and once on Sunday, Mar. 7 at 1:30 p.m. Similarly, St. Francis and Marshall will face off twice but, in this case, at 1:30 p.m. on Saturday and 11:30 a.m. on Sunday. 
But before the first pitch is thrown in the round robin, Marshall must deal with Akron Wednesday, Mar. 3 at 12:30 p.m. and later at 2:30 p.m.  
The Zips, unlike the Herd, have played a game – two games, in fact, losing to Delaware State on the front end of a double-header and defeating Delaware State on the back end of a double-header.  
Akron and Marshall's matchup is not a new one; Marshall leads the series 9-2. The latest two games, also a double-header, took place almost exactly a year ago, Mar. 4, 2020.  
Marshall took both games, winning 8-3 in game one and mercy-ruling 8-0 in game two.   
After that second game, the season would not last much longer for either team, as the onset of the Coronavirus pandemic forced season cancellations across the country.    
The Herd softball team was off to an 18-7 start, yet to begin conference play. Marshall ranked fifth in the nation as a team in batting average (.357) and first in the nation in home runs per game (1.92). 
Individually, junior Mya Stevenson was tied for first in the nation in total home runs. She was also tied for second in total RBIs. Coming into the 2021 season, she was named to the All-Conference USA team.  
Others named to the All-C-USA team were seniors Sierra Huerta, Saige Pye and Aly Harrell. Harrell was also voted as C-USA Preseason Player of the Year.   
Although Harrell did not smack as many home runs last season as Stevenson, she still hit five homers along with 23 RBIs. She did have the second-best batting average on the team (.441), but her most considerable distinction was her team-leading .602 on-base percentage, which was directly related to the whopping 23 times she was walked. At first base, Harrell led the Herd in putouts, with 142.   
Not only is a majority of the batting lineup returning, but a majority of the Herd's pitching returns as well.  
Senior Laney Jones returns after leading the team in strikeouts (61) last season and overall innings pitched. Also returning, sophomore Ashley Blessin led the team in ERA (3.45) and had a record of 7-0. Jones had a record of 8-2 and an ERA of 3.62, closely behind Blessin.   
Relief pitchers sophomore Delaney Heaberlin and senior Megan Stauffer are back as well.   
Marshall returns one of the most experienced teams in Conference USA. Although the Herd had the most preseason all-conference players, the Herd was selected to finish second in the East division behind Western Kentucky.  
Marshall will get an early chance to prove the eight voters who selected WKU wrong, as the Herd will begin conference play on Apr. 2 at home against the Hilltoppers for a four-game series.   
Marshall will then play four more four-game series against the remaining east division teams before the C-USA tournament begins May 12.   
Grant Goodrich can be contacted at [email protected].
Leave a Comment
Your donation will help continue the work of independent student journalism at Marshall University. If you benefit from The Parthenon's free content, please consider making a donation.