Athlete of the Week: Kobe Bryant–former NBA star, husband, father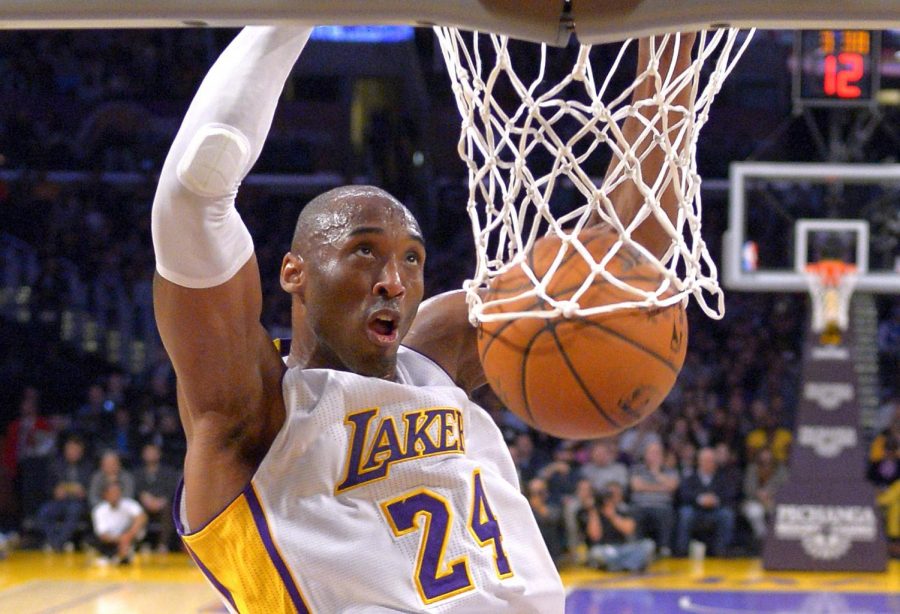 LIFETIME ACHIEVEMENTS:
5-time NBA champion
NBA Most Valuable Player (2008)
2-time Finals MVP
2-time Olympic gold medalist
Academy Award Winner
Husband and father to four daughters
Nearly four years removed from his legendary NBA playing days at the Los Angeles Lakers, Kobe Bryant was well on his way into the second stage of his life's journey. A journey that focused keenly on mentoring, tutoring and empowering four daughters, whose ages ranged from 17 years to only seven months. 
13-year old Gianna Maria-Onore Bryant, the second eldest of the four girls, embraced her father's basketball legend and chose to embark on a path to bolster and deepen the legacy of the "Black Mamba."
"Black Mamba," of course, refers to Kobe's nickname that he monikered after his cold-blooded ability to make shots no matter the stakes. 
Born out of this worldwide famous nickname was the idea of the "Mamba Mentality," a ferocious, effort-driven approach to become one's best self, not only in the sport of basketball, but in all aspects of one's life. 
Gigi, as Gianna had come to be known by many, was completely under the enchantment of her father's "Mamba Mentality." Whether Kobe was instructing, coaching or enjoying time with his daughter, he and Gigi looked inseparable whenever a basketball court was in view. Often, they were spotted courtside at various NBA, WNBA and college games, where the instruction between the two flourished for all to see. 
It only made sense that on the Sunday morning of Jan. 26, 2020 the two were on their way to a basketball gymnasium by way of helicopter – a common way of travel for Kobe. But around 9:45 a.m. PST, emergency response calls began pouring in, reporting a crash in Calabasas, California.
Kobe, Gigi and seven other passengers perished, and the legacy of the "Mamba" would forever take on a different meaning across the world.
Members of the Marshall University men's basketball team said the first word that came to their minds when asked about Kobe Bryant. 
"Legend," said Devin Collins, freshman guard.
"Black Mamba," said Andrew Taylor, redshirt freshman guard.
"Superhero," said Taevion Kinsey, sophomore guard.
As the news began to break, the shock and disbelief beset and overwhelmed a huge contingent of the nation. Los Angeles citizens flocked to the Staples Center, the home of the Lakers and Kobe's coliseum for years. Elsewhere, people looked to social media, family and friends to mourn and cope with the passing of an icon and his gifted, aspiring daughter.
In Kobe's last message to the world, a tweet to Lebron James, he highlighted an important aspect of his lasting legacy that is separate from the crazy stats and fleeting acclamations. 
"Continuing to move the game forward @KingJames. Much respect my brother #33644," he tweeted the night before his death.
Moving the game forward was a notion important to Kobe in both stages of his life, but in his second stage of life, it took on a more profound meaning.
Whether it was instigated by having a daughter or not, few, if any, had more of an impact on the future growth of the women's side of the game than he did. He not only attended games, but he actively mentored, worked out and practiced with many talented female players and teams. He was all about the future of the game no matter who was playing it.
Gigi was on course to become a large part of that future with her father right by her side through it all. 
Neither of them will get to see that future, but their last moments were spent traveling to do what they both loved, exemplifying to all the passion that the future of the game should hold. 
Rest in peace Kobe Bean Bryant, Gianna Maria-Onore Bryant, as well as the seven others, John Altobelli, Keri Altobelli, Alyssa Altobelli, Sarah Chester, Payton Chester, Christina Mauser and pilot Ara Zobayan, who passed away.