Nationally recognized author with Marshall connections dies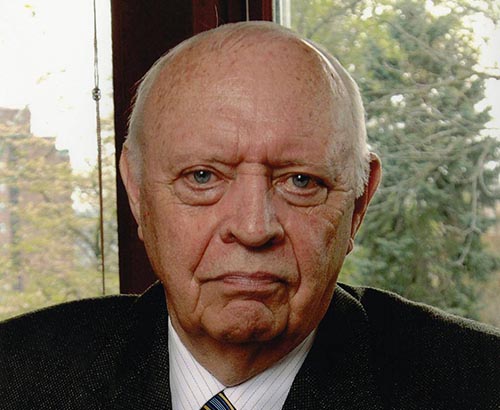 Jean Edward Smith, an established author commended for his biographies of national figures, historical works and attention to detail, who also released his 15th nonfiction book, "The Liberation of Paris," this summer, died Sept. 1 after a prolonged illness. He was 86. 
Smith, born in 1932, graduated from McKinley High School in Washington, D.C. and continued his education at Princeton University. He received his bachelor's degree in 1954. After graduating, Smith served in the U.S. Army until 1961.
Smith rose to be a captain in the Army and served in Germany. This led to the release of his first book, "The Defense of Berlin," in 1963. 
"The Defense of Berlin" discussed the events that led to the building of the Berlin Wall as well as the impact these events had on the city. This was the first in a series of nationally recognized works by Smith, all pertaining to historical figures and events from different parts of the world. 
Smith started his teaching career at Dartmouth College as an assistant professor of government. After leaving Dartmouth in 1965, Smith taught at the University of Toronto for 35 years. He worked as a visiting professor at multiple universities, including Marshall University, Georgetown University, the University of California at San Diego and others, during his tenure at the University of Toronto and continued to teach after retiring in 1999. 
Smith has published 15 books throughout his career, discussing topics such as United States policies, foreign country events and biographies of figures, including former president George W. Bush, former chief justice John Marshall and others. 
Smith won the 2008 Francis Parkman Prize for his biography "FDR" and was a finalist for the 2002 Pulitzer Prize for biography and autobiography for his biography "Grant." 
Smith was the John Marshall Professor of Political Science at Marshall University for 12 years, starting in 1999 and teaching political science; he taught classes that focused on political figures such as John Marshall and Ulysses S. Grant. He was also a Drinko Fellow, which involved professors conducting research projects with students. 
Montserrat Miller, executive director of the John Deaver Drinko Academy, knew Smith since he started working at Marshall. She said Smith is recognized for multiple accomplishments, on and off campus, but she said she felt lucky to know him on a personal level. 
"It's been a huge honor at Marshall. He taught undergraduate and graduate classes. He's a brilliant lecturer. He's just a very important figure on a broader stage," Miller said. "I will miss him dearly. I was fortunate enough to be his colleague and his friend for 20 years." 
Smith also used Marshall as one of his writing centers as recently as last year as the John Marshall Professor of Political Science Emeritus when writing "The Liberation of Paris." Dean of the College of Liberal Arts Robert Bookwalter reflected on how he knew the author as a straightforward but intelligent person while he was on campus working on the historical piece. 
"He was a great storyteller, a really smart guy, kind of matter-of-fact," Bookwalter said. "He didn't really suffer foolish questions or frivolous ideas. He seemed to have a purpose of things that he was doing and things that he wanted to talk about."
Bookwalter also said while Marshall has multiple published professors, Smith's presence on campus was a slightly unusual one. 
"It is a bit unusual for Marshall University to have a person who teaches regular classes here, who has written this many books, who has worked at this many different institutions," Bookwalter said. "He's a different type of scholar than what we're normally able to hire. We have brilliant faculty and we have people doing amazing work. It isn't that we don't have other faculty doing amazing stuff, but the volume of his work and the significance of his work and the fact that he is attached to John Marshall, he's done tremendous things." 
Smith also frequented Fourth Circuit Judicial conferences with judicial officials and administrators. Sharon Frazier, an assistant prosecutor in Huntington, said she first learned of Smith at one of the conferences in Virginia while he was still teaching at Marshall, and she remembered everyone seemed to enjoy his speech.
"I was living here and I would go to the Fourth Circuit Judicial conference, so it would be the federal judges would be there and we would have other guests, and they would just have the most incredible speakers," Frazier said. "And one year, there was this speaker who was just wonderful, he was talking about John Marshall. He was witty, he was insightful, people were just really paying attention. It was one of the best, if not the best, speakers that I had ever heard at one of these conferences." 
Frazier said she reached out to Smith, asking to audit his class after learning he was at Marshall, and she said she learned a lot in his classes. Frazier also said she enjoyed how Smith made his classes discuss the history of different events and people and connect them to present day issues, such as the Sept. 11, 2001 terrorist attacks. 
"He spent much of the semester easily transitioning between what was very current and on the front of everybody's mind, which was 9/11 happening, and John Marshall and the foundation of our country," Frazier said. "He would just fluidly go back and forth which made it just so much more real, more alive and a more relevant feeling. His grasp of American, presidential and constitutional history was just so amazing. That's what impressed me the most." 
Sarah Ingram can be contacted at [email protected]