Family, brotherhood bring men's basketball managers, team together
The strive and determination of team, family and brotherhood bond is the core of Marshall University men's basketball. The atmosphere is life-changing, and even a way of life for the Marshall men's basketball managers, the managers said.
The managerial staff consists of Calvin Covington, Parker D'Antoni, Danny Feck, Jacob Garnes, Cameron Molina and Ryan Thomas. The graduate assistants are
Patrick Herlihy and Milan Mijovic.
As a manager for a NCAA Division I basketball program, there is a lot of work and dedication to the program. There are many long days and nights where basketball does not stop. The main responsibilities of a manager involve being around the basketball players and coaches. Rebounding, cleaning up sweat and continuous support are just some of the duties that these managers perform on a day-to-day basis to make the team better.
"It's a special opportunity and a once in a lifetime opportunity," said Feck, Marshall's co-head manager who is pursuing a degree in sports management. "Over these four years, I have learned a lot that I did not know before. I've met some great people. Being around these people for the last four years, managers, players, have taught me so much."
Mijovic, a current graduate student studying business with a double undergraduate degree in international business and finance, is a former player for the men's basketball team who is now a graduate assistant for the team. He said that the transition from a player viewpoint to manager is seen differently. 
"I definitely think they earn some more respect from me now that I see how much effort they (managers) put in," Mijovic said. "It's just different behind the scenes work they've done for us that we didn't even know or think about. They are a really important piece to be successful."
As a manager, it is important to be confident and generate support for the basketball players.
Molina, a junior sports management major, has transitioned from being a manager for a junior college basketball team to a Division I team. 
"The difference is huge," Molina said. "The expectations are way different. You have to be here and your mind has to be basketball every day. You can't slack off. It's a lifestyle. Nobody appreciates it and nobody gets it, but at the end of the day it's basketball
and it's fun."
The relationships between the players and managers are special, a bond that cannot be broken, Thomas, a junior sports management major, said. 
"It's simple. Family. When I got here my freshman year, I feel like I didn't take it as serious as I do now," Thomas said. "Once that first year goes by, you really realize how important this job is. It's more than just a job. This has become a life for me. Every day when I come out here, I work my butt off. I give it my all for these guys, the coaches, the community. A lot of people don't realize what we really do. We're a part of the team. This is life."
As the season winds down with the Thundering Herd currently participating in the CollegeInsider.com Postseason Tournament (CIT), the entire team is focused on winning another championship.
Taylor Huddleston can be contacted at [email protected].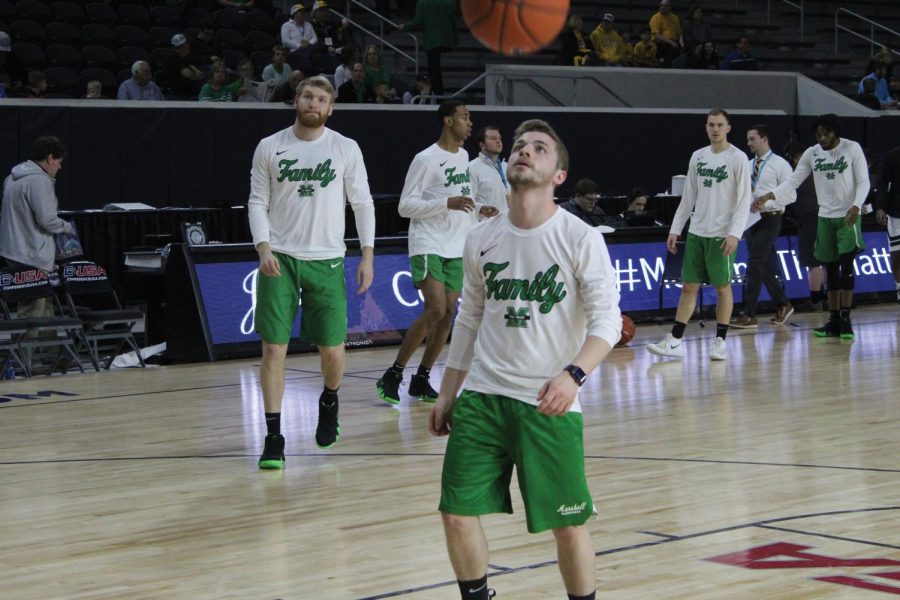 Leave a Comment
Your donation will help continue the work of independent student journalism at Marshall University. If you benefit from The Parthenon's free content, please consider making a donation.