Three new officers join the ranks of the MUPD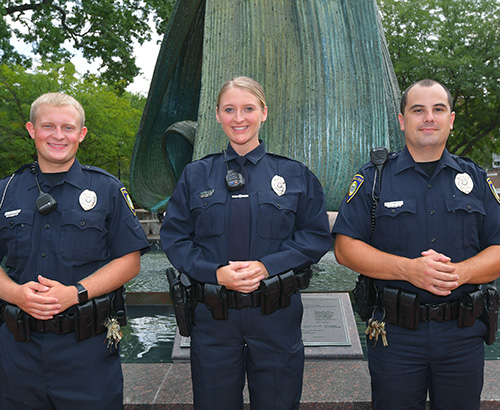 Advertisement
Hang on for a minute...we're trying to find some more stories you might like.
Marshall University announced three new officers were appointed to the Marshall University Police Department, bringing them closer to their full authorized strength of 32 officers.
The officers are Avery Meadows, a graduate of Mountwest Community and Technical College, with a bachelor's degree in criminal justice; Jordan Spears, a senior criminal justice major at Marshall University; and Matt Thompson, a West Virginia State Police Academy graduate and a certified police officer who previously worked for the Ceredo Police Department.
In addition to the three new officers, MUPD also hired three new civilian dispatchers: LeAnn Burley, Macy Chapa and Hallie Evans.
MUPD chief Jim Terry said he looked forward to working with the new officers, and the new officers are already working with senior officers at the MUPD. Terry said that the MUPD is grateful for new officers, since the recruitment of new officers is slowing down.
"It's really tough right now, it's like that all over," Terry said. "But we have great support from the community."
Jordan Spears, the MUPD's second female officer on the Huntington campus and a current Marshall student, said that the MUPD has been very supportive and has helped the new officers both physically and mentally.
"Everyone is very friendly," Spears said. "They treat us like we've been here for years."
Spears said she had known for a long time that she wanted to work in law enforcement and decided to come to Marshall because it is close to her hometown. The opportunity to join the MUPD was a welcome surprise, Spears said.
"I just saw the opportunity and I took it," said Spears. "I didn't think that I would be hired as a student."
Spears will attend the police academy in Charleston for a 16-week program beginning January.
This is not the end of recruitment for the MUPD, Terry said.
"We are authorized to add seven more officer positions and will soon be actively recruiting interested candidates," Terry said.
Sam Phillips can be contacted at [email protected]