Greek Week in full swing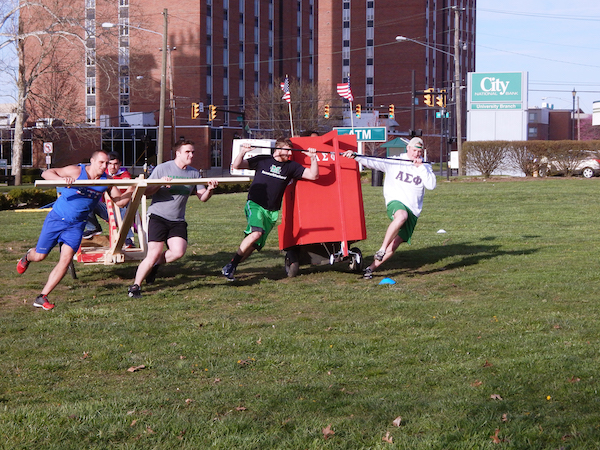 Chariot races, competition and feasting are all the makings for Greek games. That is what Marshall University's Greek Week has consisted of thus far, beginning with a volleyball tournament on Sunday.
"My favorite part was definitely Alpha Tau Omega getting the win in volleyball, but also the community service project, because we got to really try to help out the community," Nathan Eakin, president of Alpha Tau Omega said.
Monday consisted of a new addition to the week where fraternities and sororities gathered in the Memorial Student Center for an indoor picnic. James Prentice, president of Alpha Sigma Phi, said he appreciated the cookout because he was able to meet new people.
"I really like Greek Week because you don't always get to see everyone in Greek Life, and the cookout was a good opportunity to do just that," Prentice said. "It was nice to get together, eat good food and sit and talk with people you may not normally sit with."
Fraternities and sororities made care packages, blankets and collected canned goods Tuesday during a community service event. All of the goods are set to be donated to local organizations like Harmony House and Lily's Place.
Wednesday was the introduction of another new event for Greek Week: the chariot races. The fraternities and sororities were informed they needed to build chariots to race around the field by Harless Dining Hall. A variety of chariots were seen, including one made from attaching a trash can to some wood and bicycle wheels for Kappa Sigma.
Marleigh Harbour, a junior member of Alpha Chi Omega, said this is not the first time chariots have appeared in Greek Week. Harbour said she remembered hearing stories from her grandfather competing in chariot races when he went to Marshall and was happy she got to participate in a similar event. 
"My grandpa was here in the '60s, and they had it back then and went down Fourth Avenue to race," Harbour said. "I'm super excited that I got to do chariot races, not just like my grandpa did, but I got to experience it. Hopefully they'll do it again next year."
The rest of the week consists of tournaments for basketball, flag football and soccer, as well as ending the week with Greek Sing. Jesslyn Hughes, a junior member of Delta Zeta, said she is looking forward to participating in Greek Sing for the first time.
"I didn't participate last year, but I am dancing this year," Hughes said. "I'm so excited because we've worked so hard, and we put so much time into this. It's going to be so much fun."
Sarah Ingram can be contacted at [email protected]