Marshall begins its search for the new Marco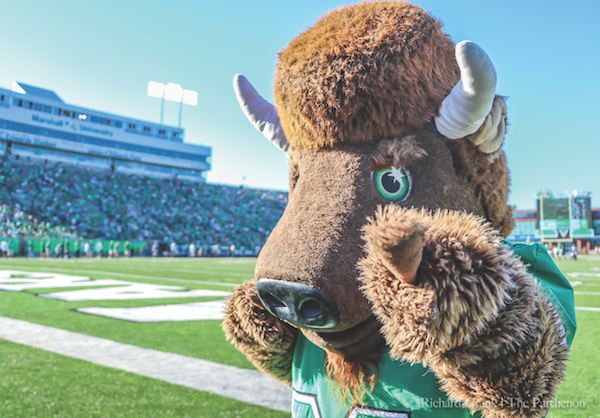 The university is looking for a son or daughter of Marshall to take over as the new Marco to keep the community spirits up throughout the year. Tryouts happen occur next week to give new students an opportunity to be their college's mascot, an experience not everyone can claim, according to Mallory Jarrell, the marketing and branding coordinator for Marshall.
"How many people can say that they were their school's mascot?" Jarrell said. "That's a really cool thing to see when you look back on your college experience."
With different responsibilities like sporting events, campus activities, grand openings and more, Marco is a primary figure on Marshall's campus. From Week of Welcome to the end of the year carnival, there is never has a dull moment.
When looking for someone to represent the school as Marco, Marshall hopes to find someone with high energy and great school spirit, as well as someone reliable, according to Aaron Goebbel, the associate athletic director for external affairs.
Goebbel said the job is a huge time commitment but encourages students to apply so they can have more opportunities.
"There are over 70 different events with the athletic department alone," Goebbel said. "Marco also goes to community events and grand openings and everything. It's a lot of work, but it's definitely worth it."
Marco has been around since the 1930s and has come a long way to get to who he is now. What began as a two-person job became one person in 1954. Marco worked through multiple makeovers to get to his current physique. He even experienced love and heartbreak with the coming and going of his former love interest, Marsha.
Kyle Powers, a freshman who has performed as Marco for the last few years, said he enjoys the job mostly because of the reactions from children.
"My favorite part about being Marco would have to be seeing the kids' faces light up when I walk into a room," Powers said. "It absolutely makes my day."
Applications are still open until Friday, and students can find more information about the job at www.marshall.edu/bemarco. Tryouts will be from 5 p.m.-7 p.m. on April 18 in the Cam Henderson Center.
Sarah Ingram can be contacted at [email protected]