Column: Women march across history, stomping out gender inequity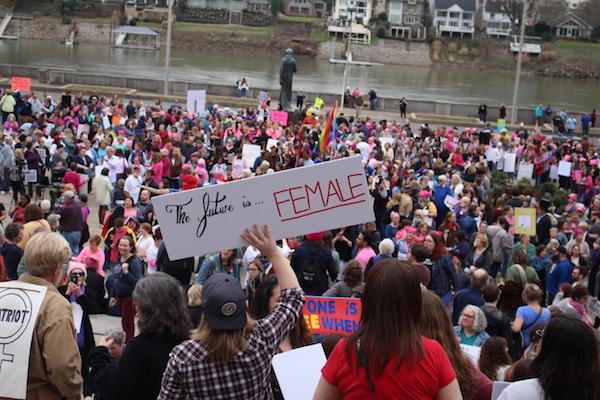 They marched in the 1900s to win the same equal social, political and economic rights as men. They marched in the 1920s for the right to vote. They marched in the 1960s for peace. They marched in the 1970s for equal rights and reproductive rights. They equality and justice for all people. They marched last January as a result of the women who came before them.
Since the early 19th century, the rights of women have come a long way. Since organizing in the 1830s as abolitionists, they still march. They are not only marching for themselves, but for the rights of immigrants, for LGBTQ rights, racial equality, freedom of religion, reproductive freedom and healthcare reform. They march for the security of others. They march for fundamental human rights.
This fight started with women like Elizabeth Caty Stanton and Susan B. Anthony, but is continuing on with women like Gloria Steinem, Hillary Clinton and Linda Sarsour.
In a statement to The Guardian in article about the 2017 Women's March, Steinem said this: "Our constitution does not begin with 'I, the President.' It begins with, 'We, the People.'"
Steinem continued by saying, "I am proud to be one of the thousands who have come to Washington to make clear that we will keep working for a democracy in which we are linked as human beings, not ranked by race or gender or class or any other label."
On Saturday, the Women's March continued encouraging women by urging them to vote. Hundreds of thousands of women marched around the United States to celebrate the anniversary of the 2017 march, but more importantly, they marched to bring their 'Power to the Polls.'
After a nearly 100-year battle to ratify the 19th amendment, the amendment that granted women the right to vote, women still work to prove that right. This basic right is now taken for granted. Women have held the right to vote since August 26, 1920; now, 98 years later, women are marching to encourage others to use that power. The right to vote is a privilege and a power.
The Women's March is not a "women's only movement," but a "women-led movement." Linda Sarsour, the Women's March organizer, wants all people to be included.
"Women know how to bring people together. Our women's-led movement centers the most marginalized communities, the people who are being most impacted by the policies being brought down by this administration and our Congress," said Sarsour in an Op-Ed piece for Now This.
Women and marginalized people in politics will bring a diversity that American politics are missing.
"We believe when you center those who are closest to the problem, those people will bring us closest to the solution," said Sarsour.
The Center for American Progress said that if the American population reflected its leadership, only one in ten people in the United States would be women.
It is time to march. It is time to register to vote and it is time to run. Women are gaining the courage and the power to take charge and create positive change. The time is up for disproportionate representation amongst American leadership.
Leave a Comment
Your donation will help continue the work of independent student journalism at Marshall University. If you benefit from The Parthenon's free content, please consider making a donation.