Herd Holiday celebration to open with tree lighting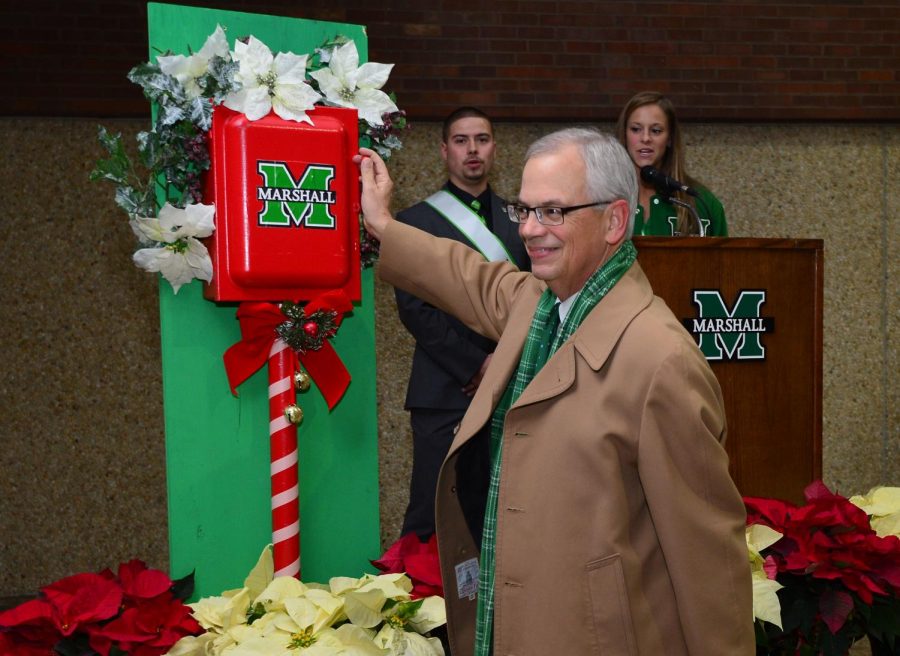 Marshall University's Herd Holiday returns to the Marshall Student Center for its fourth annual celebration Tuesday at 5:30 p.m.
Mallory Jarrell, Marshall's marketing and branding coordinator, said the event was created as a way to bring students together and kick-off the holiday season.
Jarrell said it is important community members be included in the festivities in order the welcome the Huntington community to join holiday traditions on Marshall's campus.
"And that's one of the biggest things we want to do with Herd Holiday: we want to get everyone involved, from faculty and staff, to students, to the community," Jarrell said. "Just so that everyone feels like they're a part and feels welcome on campus."
Herd Holiday will begin on the Marshall Student Center Plaza with Marshall President Jerry Gilbert and his wife, Leigh Gilbert, flipping the switch to light the Marshall University Christmas tree. The official lighting will be accompanied by Christmas carols sung by the Old Main Carolers, a group composed of university faculty and staff.
The remainder of Herd Holiday will take place inside the Memorial Student Center and feature activities, snacks and musical entertainment. Jarrell said photos with Santa Marco are typically a popular aspect of Herd Holiday, as many families use the photos for holiday cards.
Guests will also have the opportunity to paint ornaments with the Pottery Place. The Student Activity Board is providing the first 200 ornaments for free.
Jarrell said the Marshall University Bookstore will host book signings for two local authors throughout the evening. Lester Hicks is the author of "Against All Odds – 4th Down and Forever," which recounts the story of the 1970 plane crash and the Marshall community's resilience, and James Casto has written books of historical nonfiction, including compositions focused on Marshall University and Cabell County.
The event will also include a Marshall Bookstore fashion show to display gear available for purchase. The bookstore will sponsor giveaways throughout the evening, including the opportunity to win basketball tickets and books for the spring semester.
Gilbert will read to children as part of a holiday story time next to the Student Center fireplace at 6:15 p.m. Miss Marshall, Emily Kinner, will also have a story time in the Marshall Bookstore at 7 p.m.
International students will be at Herd Holiday to share about holidays in their home cultures and provide gift tags with names written in their native languages.
"We also involve INTO so that some of the international students can come and tell a little about the holiday traditions in the countries that they're from and share a little bit of different cultures with everyone," Jarrell said.
The Campus Activities Board will provide a Build-a-Bison station for guests to buy, stuff and dress their own Marco. Additionally, student organizations can sign up for a gingerbread house decorating contest. Each group will be given a kit, evaluated by a panel of judges, and one group will be awarded a prize.
Herd Holiday also features Santa's mailbox, with an opportunity for children to write letters to Santa Clause.
Monica Stanwick, Marshall senior and presidential ambassador, said she enjoys working the Herd Holiday event because it's an opportunity to celebrate Christmas with Marshall and the Huntington community. She said she has helped kids with their letters to Santa and assisted at the Santa Marco photo booth.
"It is so fun to watch children light up as they write their letter to Santa and place it in the mailbox to the North Pole, and I love helping families and students create memories with Santa Marco," Stanwick said. "Herd Holiday is one of the first Christmas events of the season, and I love how it instills the Christmas spirit in everyone who attends."
Kelley's Bridge, a group including current and retired university faculty members, will provide music at the event. Marshall athletes will also be available for autographs, photos, and special giveaways.
Caroline Kimbro can be contacted at [email protected]