Visiting Writers Series celebrates Hispanic Heritage Month with cultural discussion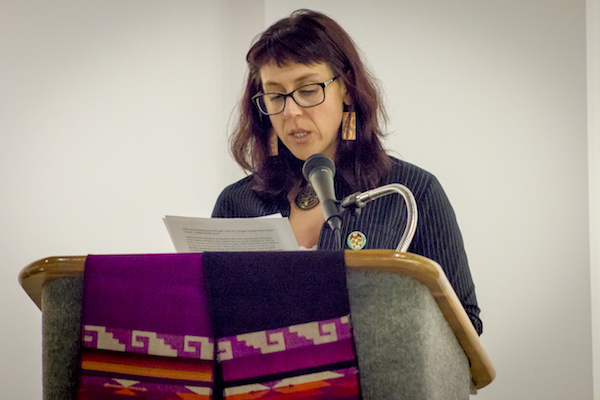 In celebration of Hispanic Heritage month, The A.E. Stringer Visiting Writers Series kicked off their first event Wednesday, Cultural Discussion Panel: Building Community through Activism and the Arts, in the Visual Arts Center.
Hispanic Heritage Month was created to bring national recognition to the contribution Latinos have made in all aspects of the United States: in education, politics, science, music, literature, business, etc. It began as a federally commemoration observed Sept. 15-Oct. 15 and first started as a week-long observation in 1968 by President Lyndon Johnson and then expanded by President Ronald Regan 20 years later.
The panelists for the discussion included the visiting writers Carmen Giménez Smith and Dan Vera, along with Monica Gracia Brooks, Marshall's assistant vice president for information technology, online learning and libraries, and Gretel Toloza Alvarez, president of the International Hispanic Organization.
The event started off with Sarah Chavez, visiting assistant professor and coordinator for Visiting Writers Series, asking the panelists multiple questions relating to what they do to build community among Latino populations, the topics of building community awareness and ideas for planning applicable to all races, genders, academic and non-academic audience members.
"I noticed there was little programming that addressed this huge part of the U.S. population," Chavez said. "There is also a growing Latinx community here at Marshall, and there were few events that reflected these students' cultures."
Brooks said it is beneficial for Marshall students to know about Hispanic culture and what they can offer.
"I've told other people that my personal mission is to help share our cultural and ethnic differences and also answer questions for people who are generally curious," Brooks said. "In my opinion, it helps to dispel some of the discrimination, ignorance or fear people have against others who are different from them. However, we should celebrate that because it is what makes us so interesting."
The second event will be Thursday, Oct. 5 at 7:30 p.m. and is a featured reading where both visiting writers will read poetry and prose from their recently published works.
Alison Baldridge can be contacted at [email protected].