Review: Foo Fighters' 'Concrete and Gold'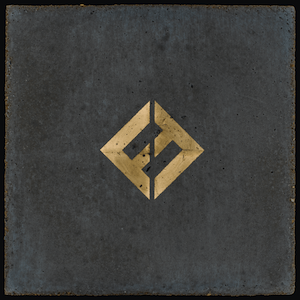 Are the Foo Fighters America's last Rock Band? Short answer: No. However, it is one of the few bands left that subscribe to the same influences that great rock bands in the past have.
Motörhead, Bad Brains and the Beatles: all of these bands' influences can be heard on the Foo's new album "Concrete and Gold." Even with Dave Grohl being the biggest rock enthusiast of all time, this doesn't mean the Foos succeeded on its new album.
In the song "Run," you can clearly hear an ode to the late Lemmy Kilmiester from Motörhead, and the song is great. It's different, yet still has that nostalgic sound the Foo Fighters are so good at, but the rest of the album does fall a bit short.
You can faintly hear songs that were influenced by the Beatles, the Bad Brains and even the Beach Boys, although that is harder to hear. The Foo Fighters are known for making albums based upon what they're listening to at the time. That's what their last album, "Sonic Highways," was based on as well. The different sounds, from different cities they traveled to and the sound of all the great musicians that came from there.
But the formula for these past two albums feel all too familiar. When Dave Grohl conceived the Foo Fighters in 1994, it was fresh; it was a sound that broke away from the grunge sound he had helped create with Nirvana. Now the Foo Fighters seem to be searching for the sounds they grew up with and leaves more to be desired from their album.
Greg Kurstin was the producer for this album, which was an odd choice for the Foos, having worked with artists like Adele and Sia in the past. However, it wasn't a stretch. The Queens of the Stone Age called upon "Uptown Funk's" Mark Ronson for their new album, and it turned out to be a triumphant success.
But what came out of Kurstin and the Foos was a few forgettable and skippable tracks. Where they really do come to form is on songs like "Make it Right" and "Run," where Grohl gives his screaming vocals and the guitars come pounding into your ears.
Overall, this album is not in any way a bad album, but it doesn't muster the same power or consistency of albums like "The Colour and Shape" or "Echoes, Silence, Patience & Grace." Having said that, "Concrete and Gold" is the Foo Fighters best album since 2007, but once again, it is an album that has only a few great tracks surrounded by filler tracks.
Tom Jenkins can be contacted at [email protected]