Open-air preacher's team, audience grow in numbers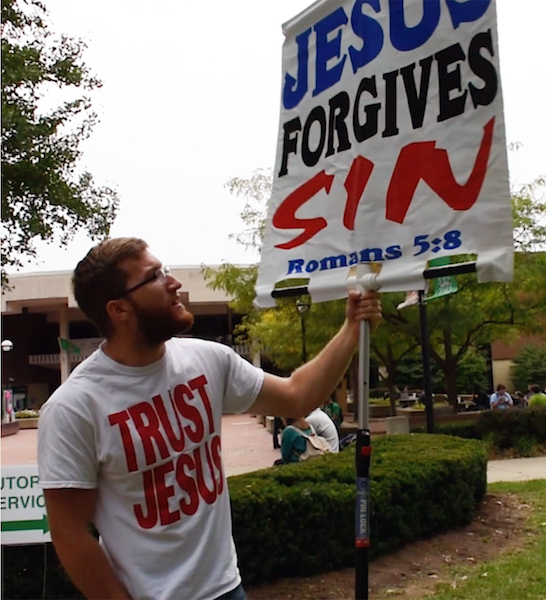 Open-air preachers, opposing students and a man playing the saxophone were the center of attention outside the Memorial Student Center Monday afternoon.
Although Zach Humphrey normally shows up to campus and preaches alone, he had a small team of open air preachers with him this time.
John Adkins, a member of Word of God Open-Air Ministry, said he came out to just
share the good word and not stir up controversy.
"We're just trying to get the message to people," Adkins said.
With Humphrey's previous goals to spur religious conversation on campus, some students said they felt uncomfortable with his way of practicing free speech.
"I think it's wrong," freshman Makayla Ward said. "I don't feel comfortable with it."
Ward said a couple of weeks ago she walked by Humphrey on campus and overheard a conversation he was having with another student that caused her to intervene.
"He was looking at Muslim students and said, 'All Muslims are terrorists, you're going to hell,'" Ward said. "The reason I came back out here today is because I wanted to know what he was talking about this time."
With a diverse religious population on campus, Ward said there is a specific way to go about practicing religion and speech openly without targeting others.
"If he was actually preaching about the Bible and how it can save you, that's okay,"
Ward said. "But he was repeating some of the things he was saying a couple weeks ago, continuing to pinpoint different types of people."
Ward said she didn't think that was the type of thing Humphrey should be doing, but instead preach about God's love and not negative things.
Another student played the saxophone throughout Humphrey's preaching in opposition of Humphrey's practice of free speech.
"I'm not here to force anyone to believe like me, but I am here to seek to influence people in the grace of God to come to Christ and know his forgiveness and mercy," Humphrey said. "That includes warning them of the wages of sin."
With the crowd much larger than usual, Humphrey said he credits the people who argue with him and the student playing the saxophone for drawing attention towards his preaching.
"Whenever there are people who cause a scene, it really helps to get people's attention," Humphrey said. "Then they start hearing the Gospel and that's what really gets them to stick because now we have a solid crowd that we're ministering to."
Danite Belay can be contacted at [email protected]
Video by Tom Jenkins
Managing Editor