Gilbert sets goals for second year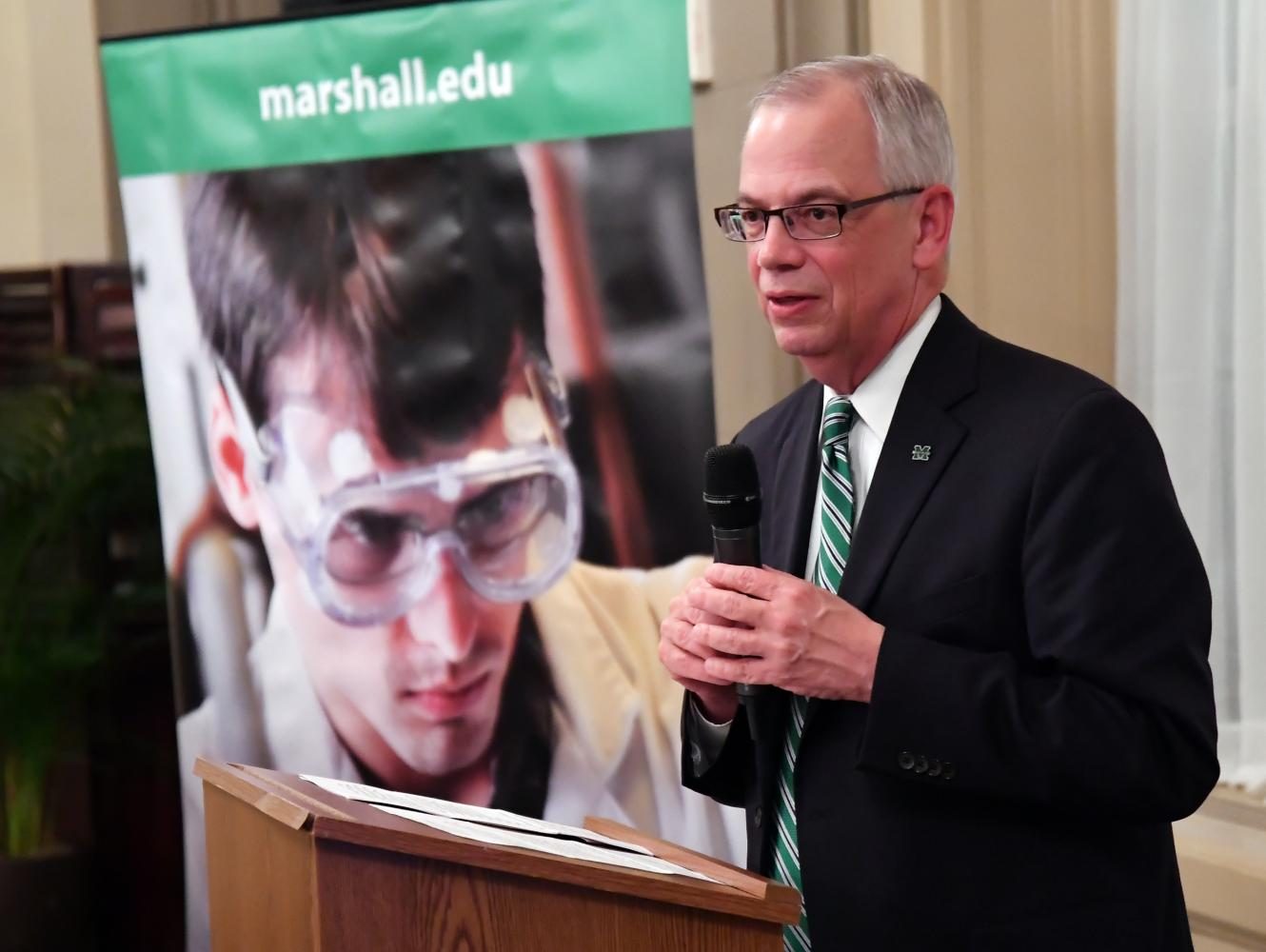 Caroline Kimbro, Reporter
August 31, 2017
As his second year at Marshall University commences, Dr. Jerry Gilbert reflects on his initial year as president and turns his aim towards the future.
Gilbert said he feels much more engrained in the Huntington community after a year at Marshall than he did at the beginning of
last fall.
"You know, I didn't know many people to begin with and I still don't know everyone, but I feel more at home now and like I know more people," Gilbert said. "I feel more connected this year."
Gilbert said one new goal he has for this year is opening up thoughtful discussions on campus about "hot button topics," such as race and intolerance.
"I want us to give [students] an opportunity and a venue to express their ideas in an open and respectful manner so that we can debate topics the way they should be debated – and that is without excessive emotion and with respect for other people's opinions even when they disagree or don't line up with yours," Gilbert said.
"I want us to create a level of civility on our campus so that we can agree to disagree on topics but not be disagreeable toward each other. I think that's an important life lesson and I think it's something we need to model as educators. We need to show people how you can strongly disagree with someone, but still be friendly with that person."
Gilbert said if he could say one thing to the student body, he would express a hope that students feel at home at Marshall.
"By feeling at home, I would hope that all of the things I just mentioned would be something that they would expect and would exhibit in terms of how they act as a community or as a family – that is, that they would feel like they have a place here where they can say what they want to say without fear of anyone getting violent or being obnoxious towards them and that we can all express our opinions freely without fear of any retribution," Gilbert said.
Gilbert said that this sense of belonging and the ability to interact well with others is of equal importance to students' academic accomplishments.
"Of course I want our students to have a great learning experience," Gilbert said. "I think this is a time as an undergraduate or a graduate student where you expand your view of the world and I want them to learn and become prepared for their careers, whatever they are, but I think a large part of that is learning how to get along with
other people."
Gilbert also said he hopes Marshall students, faculty, and staff will have a lasting impact on the opioid crisis in the Huntington community and surrounding areas. ​
"A goal for this year, which I kind of started last year, was for Marshall to have an impact on the opioid crisis and I think we are making strides in that regard," Gilbert said. "We've got some research going on in that area, also some funding to do some rehabilitation, some type of social readjustment, job training, as well as programs to get people through addiction into recovery. I'm very pleased with what we've been able to do."
As he established at the outset of his presidency, Gilbert said he is still focused on increasing enrollment as a means of enhancing the university community and increasing revenue. Gilbert said Marshall has left close to 140 positions vacant over the past couple of years as a result of budget cuts.
"That's still my first goal, to increase enrollment," Gilbert said. "I mean that's the way that we can improve the university is with additional students. We need that for the revenue, our budget's still very tight."
Ginny Painter, Senior Vice President of Communications, said she's proud of Marshall's new marketing campaign and looks forward to reaching more potential students in the upcoming year.
"I think the number one thing I'm looking forward to is probably working hand-in-glove with all the departments on campus to increase our enrollment together through marketing, the recruitment office, and customer service," Painter said.
Gilbert said he's excited about the new events, research opportunities and greater student involvement that will enhance Marshall's academics and community
this year.
Caroline Kimbro can be contacted at [email protected]