Huntington Fire Chief makes history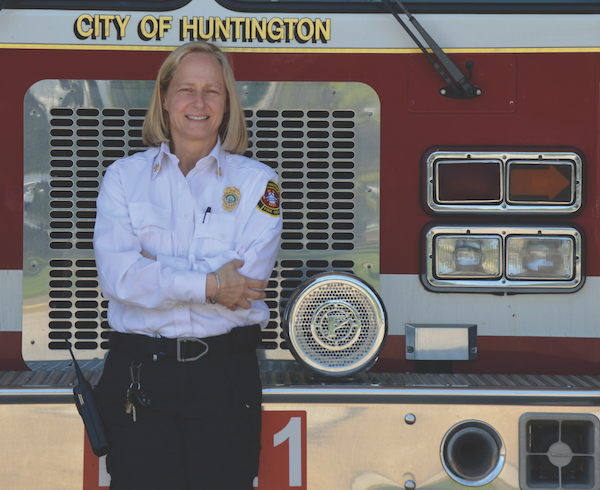 Advertisement
Hang on for a minute...we're trying to find some more stories you might like.
"On this day forward, life is different," Huntington Mayor Steve Williams said.
On Wednesday, Jan Rader was announced as Chief of the Huntington Fire Department, making her the first professional woman fire chief in the state of West Virginia.
"History is being made in the City of Huntington and in the state of West Virginia," Williams said. "You can never go back behind this day again."
Serving 22 years at the fire department, Rader once had a completely different profession. Working as a gemologist in the Washington D.C. area, Rader witnessed a life-changing event.
While Rader was working on repairing a gem-stone one day, Rader witnessed a woman by-stander turn blue and fall onto the pavement. Feeling helpless, Rader called 911. When the firefighters came, a woman paramedic helped save the woman.
"I didn't even realize that being a firefighter was an option for women," Rader said.
Within the next couple of weeks after the incident, Rader took a CPR class because she felt the need to "no longer be helpless anymore."
After the class, Rader volunteered at the Fairfax County Fire Department and was certified as an EMT and a career firefighter. During this time, Huntington Fire Department was hiring and she applied and came back home.
Over her 22 years, Rader has witnessed many miracles and many heartbreaks. Last Friday on Interstate 64, a man went airborne in his vehicle off a bridge. Although he is in critical condition, he is still alive.
"There are things that happen throughout your career or things that you see and you realized that you are not in control," Rader said. "Somebody else is truly in control. We have the ability to help and maybe change the fate."
Training physically is tough for firefighters, but training mentally is tougher. With the overdose crisis in Huntington, area firefighters are often exposed to challenging scenes. At the end of the 2017 quarter, Huntington Fire Department has already had 300 more runs than they did this time last year.
"Last year we had 1,162 overdoes that we responded to in the city limits," Rader said. "Our job has completely changed within the past five years due to the heroin epidemic."
Recalling on more difficult times, Rader does not complain.
"If I am having a bad day, somebody is having a horrific day, so I don't have a right to complain. All you can hope for is that somehow you have eased their burden a little bit," Rader said. "You have to try to keep things in perspective."
Rader never aspired to become chief of the fire department. Her goal was to make it 20 years at the department and at least make it to be captain.
"By the time I got here, people have tried to run me off this job," Rader said. "It didn't work. People try to bully you and try to tell you, you can't do something, or you shouldn't do something or you are crazy for doing something. But if you know in your heart that you really want to do something and you realize that you are capable and you are willing to put in the swear-equity, you got to do it."
Rader said having self-respect and integrity are key and that she has no fear in failure.
"On the job, the guys would challenge me to things like who would climb the poll fastest or put on our gear faster," Rader said. "I would always do it, because the day I beat them, they will never forget it. There is no fear in failure for me, because that is what they expect."
Williams said Rader's new position is a step in the right direction for Huntington.
"A person's gender can never stand in the way of your accomplishment," Williams said. "This is a huge step for us in Huntington, a huge step for humanity and in our state. I am so proud of Jan Rader and what she represents."
Rader, a hero to many in Huntington and in the state of West Virginia, has broken a glass ceiling and will forever be known as the first professional woman fire chief in West Virginia.
Sadie Helmick can be contacted at [email protected]