Governor Jim Justice begins work on education system in West Virginia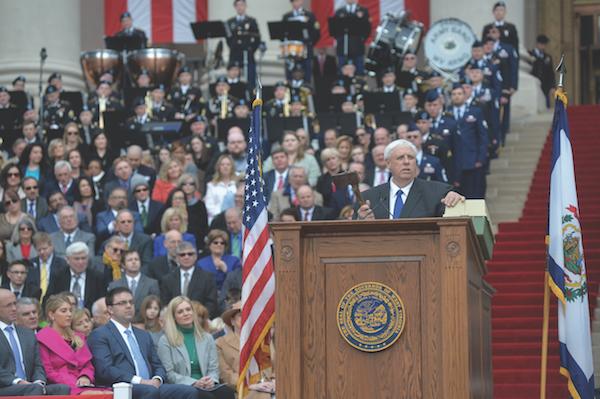 Governor Jim Justice has recently used his social media accounts to advocate his ideas for West Virginia's education system.
Justice spent much of his campaign speaking about the education system in West Virginia and the plans he had for the state program as governor.
The governor outlined his plan for education as one of his main platforms. On the Jim Justice for West Virginia website, Justice specifically defined his plan and is now working to implement those ideas.
His official website, says his main education ideas are to "Get the politicians out of the classroom," "Prepare students for a career in West Virginia" and to "Pay our teachers what they're worth."
Marshall University students and West Virginia natives, Alyssa Fisher, a senior English major and Jessi Scarberry, a senior psychology major, weighed in on Justice's education efforts as they both attended and were a part of the West Virginia school system before attending Marshall University.
Fisher and Scarberry both said they were interested in seeing what the governor does before making a judgment on his actions towards the education system in West Virginia.
"I think it's a good thing if he's trying to improve the school system," Fisher said.
Since his inauguration, Justice has appointed former West Virginia First Lady Gayle Manchin as the secretary for the Department of Education and the Arts.
On Justice's official Twitter account, he tweeted about the Board of Education vacancies and said, "Our schools need more local control and they won't thrive until we get bureaucrats out of the way."
Justice has used his official governor Twitter account to post many other statements about his stance on West Virginia education.
He combined another platform he has discussed often during his campaign, job creation, with his statements on education in another Twitter. post
"Our youth are West Virginia's future. We must rethink WV's education system and create jobs for the next generation of WV's workforce," Justice said on his Twitter account.
Justice released a press release Wednesday to share the appointment of Dave Berry to the West Virginia State Board of Education.
On his official Twitter account he tweeted on Wednesday regarding the issue of the Board of Education vacancies in West Virginia. "The people of WV are demanding a new playbook for our schools and I will deliver," Justice said.
Those positions were filled Thursday afternoon by Tom Cambell and Chuck Hatfield. Cambell will step in as President of the West Virginia School Board, and Hatfield will serve as its vice president.
The board elected the two after the resignation of the former president and vice president Tuesday.
West Virginia Superintendent of Schools Michael Martino has said he will be stepping down at the end of the year as well.
Kylee Hurley can be contacted at [email protected]
Leave a Comment
Your donation will help continue the work of independent student journalism at Marshall University. If you benefit from The Parthenon's free content, please consider making a donation.