Editorial: Your right to vote was earned, use it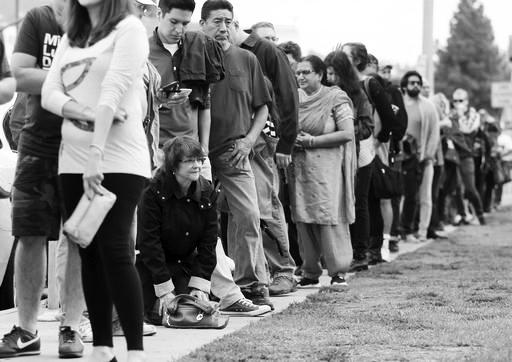 At some point in American history, someone fought tirelessly to earn your ability to vote. On this Election Day, we, the editors of The Parthenon, encourage you to research candidates and exercise that constitutional right.
Voting is perhaps the most important feature of our democracy, as it voices the will of the people entirely. When we dismiss the responsibility, we contribute to the chaos.
Sure, it's easy to be "busy" or dislike the presidential candidates, but ballots include local and state candidates too, and those races will affect your life more directly. Elected representatives have the authority to delegate funding or revoke it from the organizations you support. Your community's future literally depends on your participation.
In September, West Virginia Secretary of State Natalie Tennant released a series of videos from community members in which they reveal the motivation behind their democratic participation.
Marshall President Jerome Gilbert, a documentary participant, said he was among the first to vote after the ratification of the 26th Amendment, which enabled citizens aged 18 and above to participate — a right he considered a "great privilege."
"I've not hesitated to vote in every primary and every election since then," Gilbert said. "I don't think I've missed a single one. It's our duty to be an active participant in the process to decide the future of our government and to decide the future election of individuals that will represent us."
Like Gilbert, the motivation is personal for many.
"I vote because my grandmother's generation worked, marched, rallied, went to jail and were even tortured trying to implement the promise of our country: that we are a government of people," said Charleston resident Conni Gratop Lewis, of the League of Women Voters.
Lewis said a "better" West Virginia can only come from active participation within.
"It's not enough to complain, or march, or write your elected officials," she said. "In my career as a lobbyist for tiny nonprofits, I learned that most officials want to do the right thing, but they need the voters' backing to do it."
In the words of President Lyndon B. Johnson, "The vote is the most powerful instrument ever devised by a man for breaking down injustice and destroying the terrible walls which imprison men because they are different from other men."
You have the power to change your nation. Own it.
Leave a Comment
Your donation will help continue the work of independent student journalism at Marshall University. If you benefit from The Parthenon's free content, please consider making a donation.