Makers demonstrate new ideas, skills at RCBI Makes Festival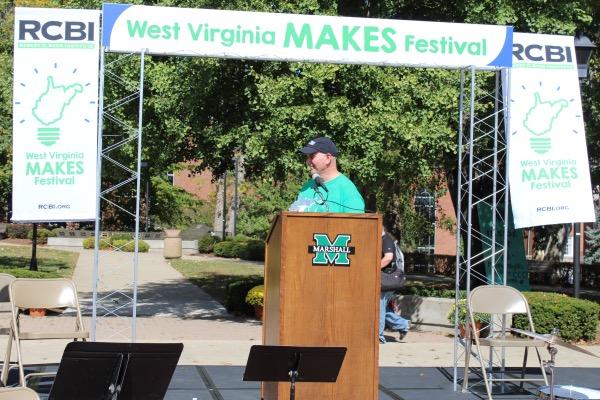 The third annual Robert C. Byrd Institute Makes Festival took place on the Marshall University Memorial Student Center Plaza Oct. 7.
The Makes Festival is designed to provide makers the opportunity to demonstrate their new ideas and skills, and reward their creative inspirations. Students and staff could engage with the inventors to learn more about specific products and small business management.
Bill Woodrum, project coordinator/agricultural innovations with RCBI, said the interaction is important for college students to see that they can create a business selling their own creations.
"College students seem to get that maybe they want to take more control of their own destiny, making and creating products, kind of going into business for themselves," Woodrum said.
This is the first year the event was hosted on Marshall's campus. Mike Friel, RCBI public information specialist, said the location was chosen because universities are epicenters of creative thought and action.
"Universities are centers of innovation and entrepreneurship and creating of all sorts," Friel said. "We wanted to play off that energy that exists and get all these makers on campus where a lot of innovation takes place."
The event included various design challenges, where the "Best in Show" winner, Bryan Bush of Lewisburg, took home $1,000 for his 3D printed fishing lures.
Bush said he enjoyed sharing his creation with others who share his passions for both invention and fishing.
"The comradery with the people that like fishing and can see this and be like 'wow, that's a good idea, something I've never thought of before,'" Bush said. "Hopefully it inspires some of the kids who can just look at them and think 'I could do that.' Hopefully it inspires someone."
Other prize categories included Innovation/Use of 3D Printing, WV Awesome, Most Original Design, The Great Innovator, Great Mind of the Future and Young Promise Award, all of which included cash prizes.
Alongside the inventors were local artisans and entrepreneurs who showcased their works for the Marshall and Huntington communities.
Oct. 7 was also national Manufacturing Day and RCBI hosted tours of their facility in celebration.
Nancy Peyton can be contacted at [email protected]
Leave a Comment