Fraternity, Sorority Life partner for Hazing Prevention Week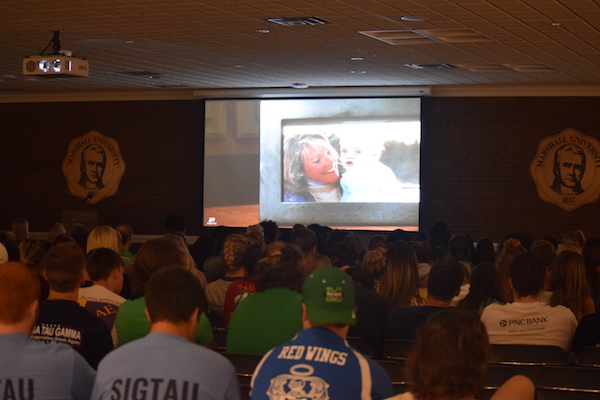 The Office of Fraternity and Sorority Life kicked off their annual Hazing Prevention Week on Monday.
The Office of Fraternity and Sorority Life is comprised of three different governing councils: the National Pan-Hellenic Council, Inter-Fraternal Council and Pan-Hellenic Council.
The three councils have collaborated to represent the Office of Fraternity and Sorority Life throughout the week to accomplish the common goal of teaching students about hazing and how to prevent it.
According to Director of Student Life and Leadership, Andy Hermansdorfer, the university sponsored event started four years ago when a Pan-Hellenic sorority student started the initiative as a project for hazing prevention.
The student invited other fraternities and sororities to join in on her movement and Hazing Prevention Week was created.
"Everyone can learn how to stop and prevent hazing from happening," Hermansdorfer said.
On Monday evening, the councils presented the movie "Haze," a documentary to illustrate the consequences of hazing.
Haley Whiteman, lead organizer in Hazing Prevention Week, said movie showings like this are important and will help keep the university haze-free.
"Even though in the past we haven't had any hazing incidents, we want to educate our members on what is happening in the world and hopefully we can prevent that from happening here at Marshall University," Whiteman said. "We are fortunate that things like this hasn't happened, but we want that to be a recurring thing, that they don't happen."
Marshall University has a zero tolerance policy for hazing, which is defined in the 2015-2016 Student Handbook produced by the Office of Student Affairs. This policy does not only include fraternities and sororities, but all student organizations.
Matthew James, assistant dean of Student Affairs, said that it is important for university students to have an annual reminder of why organizations exist and how they can keep each other safe and hold each other accountable.
"We have a standard of dignity and respect that we expect all student organization to treat their members with and to uphold the Marshall creed, which is to value other people and to treat them with the same dignity and respect that you wish to be treated," James said.
The three governing council organizations will partner with each other throughout the week and will be outside on the Memorial Student Center Plaza to educate the public on hazing and how to prevent it.
Darius Booker can be contacted at [email protected]
Leave a Comment
Your donation will help continue the work of independent student journalism at Marshall University. If you benefit from The Parthenon's free content, please consider making a donation.