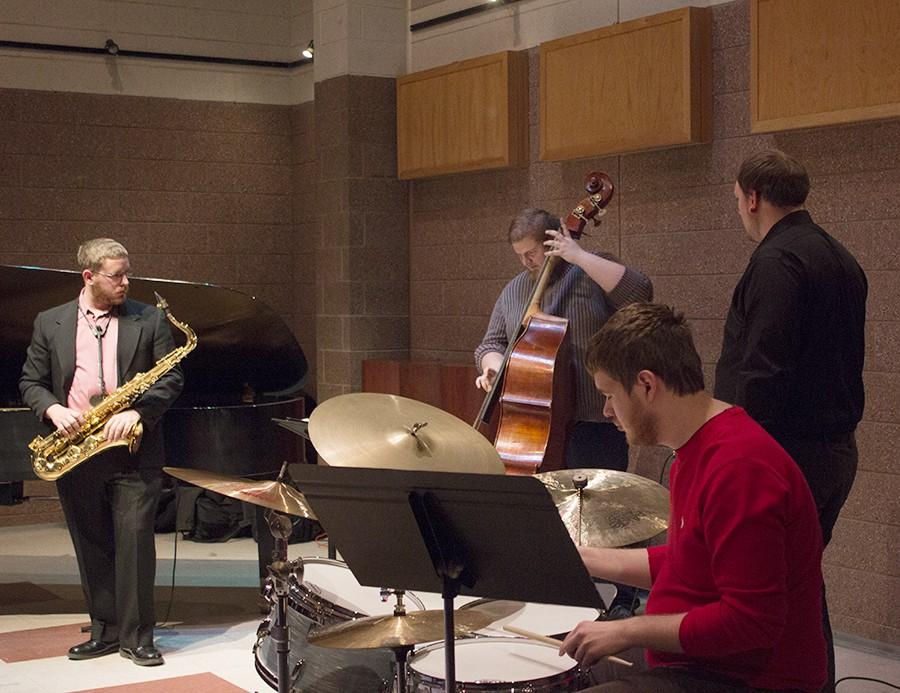 Leah Cook
Marshall's Jazz Combo I had a personal connection to its set list Wednesday night that they shared with a packed Jomie Jazz Forum. 
Their program included various modal and American songbook tunes as well as some Marshall University originals.
"Their set not only contains several canonical jazz compositions, but an original composition by the group's bassist Lars Swanson and one of my original compositions," director Jeff Wolfe said. 
Wolfe said his piece was a work in progress but is happy with how it turned out and is glad his jazz combo is performing it now.
"At first it started as this really complicated thing about autumn and then I had to tone it down a little bit," Swanson said. "I worked on it in October or November and then I brought it out again probably a month ago and we played through it once and I took it back and revised it again." 
Swanson's composition fit the modal theme of the show and didn't miss a beat with the crowd. 
The ensemble had other emotions when it came to playing a piece written by their professor and director.
"It is nerve racking because it's his piece and we are bringing it to life in front of him and we know he has more to say about it then some of the other pieces we play because he knows it more intimately than any of us do," Swanson said.
It's been a busy month for Jazz Combo I, made up of trumpeter Gabe Muncy, tenor saxophonist Bobby Galloway, pianist Tim Smith, Swanson and drummer Hogan Bentle.
Jazz Combo I performed this set list prior to Wednesday night at the Winter Jazz Festival.
This festival also gave the group an opportunity to perform with world-renowned jazz alto saxophonist Jim Snidero.
The next big event the combo members will participate in is the Region IV Jazz Ratings Festival March 5. 
Leah Cook can be contacted at [email protected]