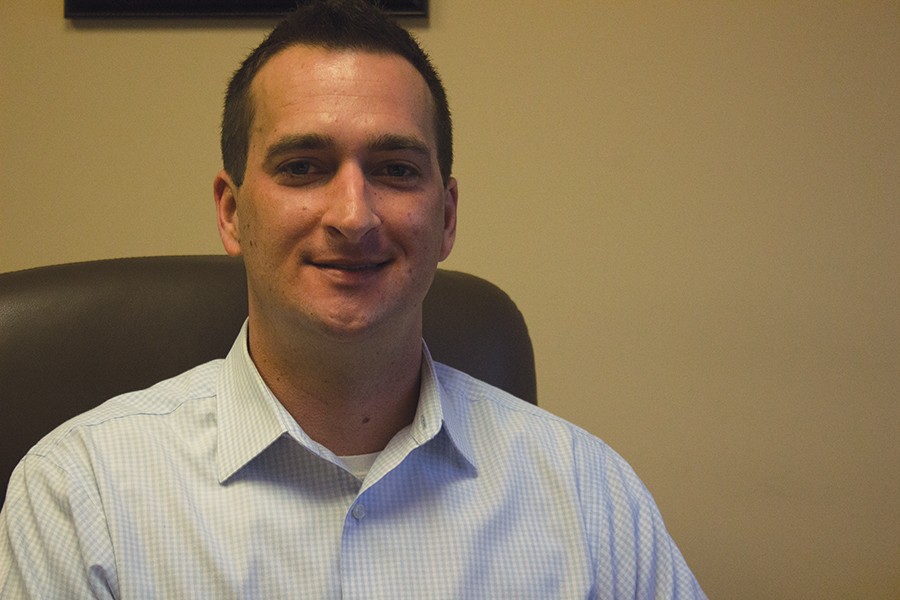 Ryan Fischer
Matt Boggs was an average boy from Kentucky equipped with a sharp mind and broad goals.
"I was kind of your typical all-american kid, played sports, student council, Future Business Leaders of America, involved in a lot of civic organizations and volunteerism," Boggs recalled.
Boggs had set his eyes on Marshall for his pursuit of the American dream, persistent in his hopes to study business.
But even before these interests were kindled, Boggs suggests something had been missing within him.
"The first time I picked up a drink I finally felt a part of everybody…I could stand in a room and no longer feel alone." he said.
Over the years, Boggs began to turn to alcohol in order to fill the empty space within him more and more.
"It really triggered the underlying disease of addiction in me," Boggs said. "I aways think of it as like a switch, that once you turn it on it's hard to turn it off."
Boggs said after discovering his need for drugs and falling into active addiction with various substances for many years, he met heroin.
"That began a downward spiral, and I made a lot of decisions during active addiction to heroin that I regret today," he said.
Boggs was now strapped with a powerful addiction to opiates, but he also had to face the turning away of his family.
"I wound up homeless, living in abandoned houses, family didn't want much to do with me, rightfully so." Boggs recalled. "I would steal, I would lie, manipulate. I would inflict harm, not physical but emotional harm to all the folks that loved me the most."
Boggs explained his family's decisions were partly out of their own pain for his suffering.
"My mom had changed the locks and told me not to come around the house." Boggs said. "She wanted to talk to me, but she didn't want me coming on her property, she didn't want me coming in the house. Not because she didn't love me because she did love me, but she didn't want to watch me kill myself."
Boggs wound up in jail eventually, trying short term solutions and 28-day recovery programs between Florida, California, and Colorado before "begging and begging" to return to the Tri-State area.
Trying to follow his word, his return was successful for some time before slipping back into his addictions again.
But then Boggs found a old friend, someone who had seemingly crawled away from his former years of addiction unscathed. This friend claimed he had changed his life, referring Boggs to "The Healing Place" recovery center, now known as "Recovery Point."
Homeless again and unable to seek refuge with his estranged family, Boggs walked into The Healing Place in March 2012.
The all-male recovery program offered by the center focuses on peer interactions and monitored, non-medical detox.
Boggs says an incredibly important facet of Recovery Point's brand of healing is the community sessions, where clients are able to interact with each other and share both haunting memories and hopeful advice amongst themselves, mentors, and graduates of the program.
"Looking back, that's the element of peer recovery," Boggs said. "It's somebody sharing their hope or giving their hope to somebody who wants help, who needs help."
From day one at The Healing Place, Boggs' life began to change dramatically.
"I started talking to these guys who had been here for months, and they kept telling me 'it gets better, you know, your life will change too if you stick around,'" Boggs said.
Boggs heeded the advice of his peers, staying the course and graduating from the program in October of 2012.
"While I was here I learned to become a man." Boggs said. "Before I was a victim, and I was a child. It was here that I learned to become a man."
He soon went to work full time at the Huntington City Mission, where he was able to work on the "front lines" with individuals suffering from severe mental handicaps and addiction.
Soon after a associate development position became available at Recovery Point, which he promptly applied for an received. While working these two jobs, Boggs was finally able to turn his gaze back to his original plans at Marshall, obtaining his bachelor's degree from the College of Business.
"Fast forward, I just continued to kind of work myself through [Recovery Point]," Boggs said. "I applied for the Executive Director at one point and didn't get it, and recovery has taught me that there is always a plan. Even though a door might be closed there's always another door that's open."
In October of 2015, Boggs was named Executive Director at Recovery Point and currently maintains this post, serving the individuals in the recovery community with a powerful sense of what he calls "brotherhood."
"I hope that my story can give someone hope," Boggs said. "And that they can overcome and persevere."
Ryan Fischer can be contacted at [email protected]