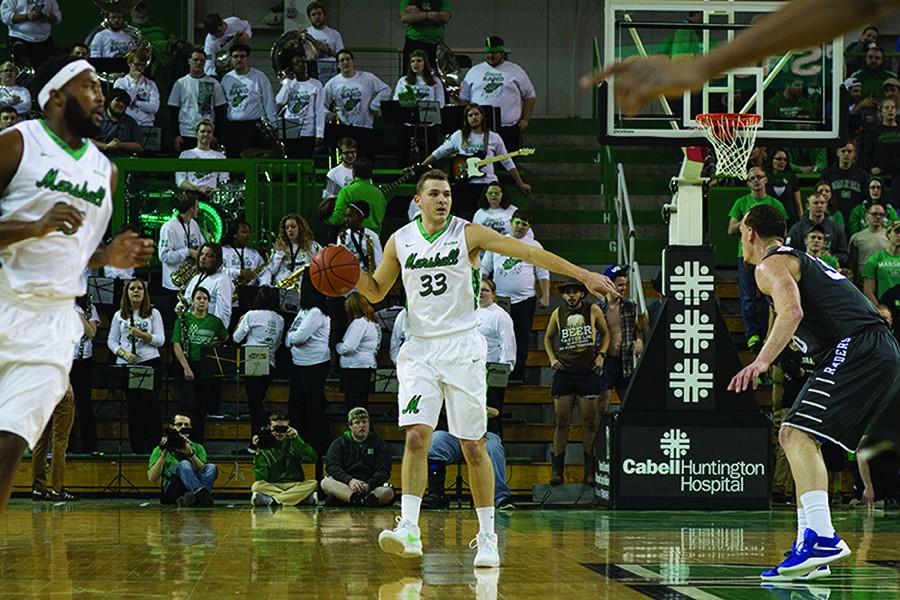 Ryan Fischer
It is no secret Marshall University point guard Jon Elmore has been one of the many parts that have contributed to the Herd's play in the conference portion of its schedule, going 11-3 in league play.
It is also known by a majority of Herd fans that 45 minutes away, in Charleston, West Virginia, is where Elmore calls home.
While growing up in the state's capital, Elmore played prep basketball for three years at two different high schools: South Charleston High School during his freshman and sophomore years and George Washington High School during his senior year.
While in his junior year, Elmore left for Christ School in North Carolina. Elmore said the move was to better develop himself as a player.
"I felt like I wasn't really getting recruited like I should have been," Elmore said. "I felt like I was under the radar a bit. When I went down there, we had like seven or eight guys going Division I on the roster.
"With all the (Division I) talent and the good players around me, it was a lot of fun. You don't really see a lot of that playing high school ball in West Virginia."
While attending Christ School, Elmore averaged 13 points and six assists per game in his junior year, stats that garnered offers from 20 different colleges, including the likes of Ohio University, Winthrop University and Virginia Military Institute, where he played his freshman year of college.
Elmore then made the decision to play ball back in Charleston, West Virginia his senior year at George Washington.
Despite his success against stiffer competition in North Carolina, his standout performance came during his senior campaign in a postseason game, where he scored 45 points, with 40 of them coming in the second half alone.
"At George Washington, my senior year, we played Capital in the sectional final game, and I shot the ball really well," Elmore said. "I felt like I couldn't miss and that I could probably throw up a hook shot and it would go in. That would have to be one of my most memorable games"
While he has numerous accomplishments throughout his career, Elmore said he has had plenty of assistance and guidance from those closest to him, especially from his family, where the tradition of basketball runs deep.
"My grandfather played Division I basketball at West Virginia," Elmore said.  "My father played Division I basketball (at VMI) and was highly successful. And my brother (Ot Elmore), he plays Division I basketball as well (at University of Texas Rio Grande Valley). Growing up in a basketball family and having good mentors has been huge for me."
Elmore and his father, Gay Elmore, both won the prestigious Evans Award, which is granted to the top prep player in West Virginia. The two are the only father-son combo to achieve that feat.
Elmore said he and his father still practice with each other frequently.
"We go to the gym almost every day," Elmore said. "Even while I'm down here at Marshall, he'll drive down from Charleston to help work me out and do shooting drills. He's been as great as a role model as I can ask for."
Despite it being Elmore's first season at Marshall as a sophomore, he is well integrated into the team's chemistry and is one of the many reasons for Marshall's success in conference play this season.
"It's been awesome," Elmore said. "Marshall has kind of been down a bit the past few years in basketball. We're trying to bring it back and we're been doing a pretty good job with that. We just have to stay focused, to keep winning and to ultimately win the conference."
Marshall has a 15-12 record (11-3 C-USA) and is second in conference standings.
John Fauss can be contacted at [email protected]