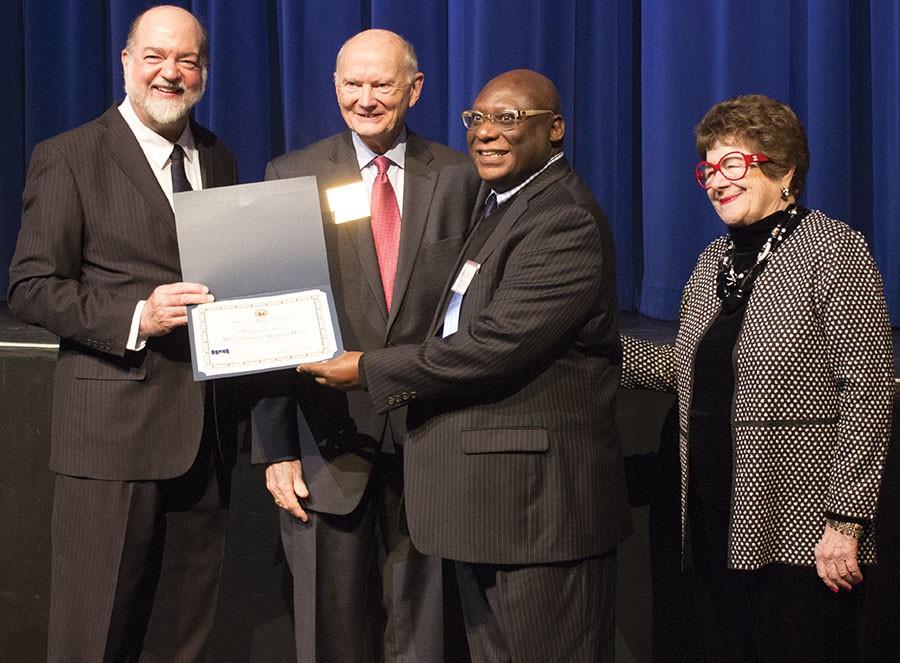 Ryan Fischer
Burnis Morris, Carter G. Woodson Professor of Journalism and Mass Communications, was recognized today as a 2016 History Hero in Charleston at the Culture Center.
The History Hero award is a part of History Day at the Capitol and has been going on for 20 years. The director of West Virginia Archives and History, Joe Geiger announced the candidates to receive their awards. This class was a larger class with 50 members. Geiger said a good number of class members attended.
"History heroes are those persons who are being recognized by a historical society or geological society for work they've done over the previous year or sometimes a lifetime of work they've done for that society," Geiger said.
The Carter G. Woodson Foundation nominated Morris for the honor because of his contribution of research to the foundation. David Harris, the treasure of the foundation, said he was excited for Morris to receive the honor because Morris had given him the information to create a living portrayal of Woodson.
"I am really honored and thrilled because Dr. Morris had really been an inspiration to me. So I am really happy for him," Harris said.
Morris has conducted valuable research on Woodson since 2011, when he was named a John Deaver Drinko Fellow. Morris said he is excited to receive this once-in-a-lifetime honor.
"This is a special experience for me," Morris said.
Morris said he is grateful for the recognition even though he had no idea he was being nominated.
"Oh, it feels great, I'm just humbled," Morris said.
The five History Heroes from Cabell County met delegate Jim Morgan and took photos with him. Morgan said it is important to recognize these people because they help us remember the past, which will help us in the future.
"I think History Hero Day is an important day in West Virginia because it allows us to honor those who have done so much to keep the past alive for us," Morgan said.
Morgan said he is proud of the county he represents.
"It's great to have five people who have contributed this year in our History Heroes," Morgan said.
Every year history and genealogy organizations choose an individual they believe goes above and beyond to serve them and they are honored as a History Hero.
Cheyenne DeBolt can be contacted at [email protected]