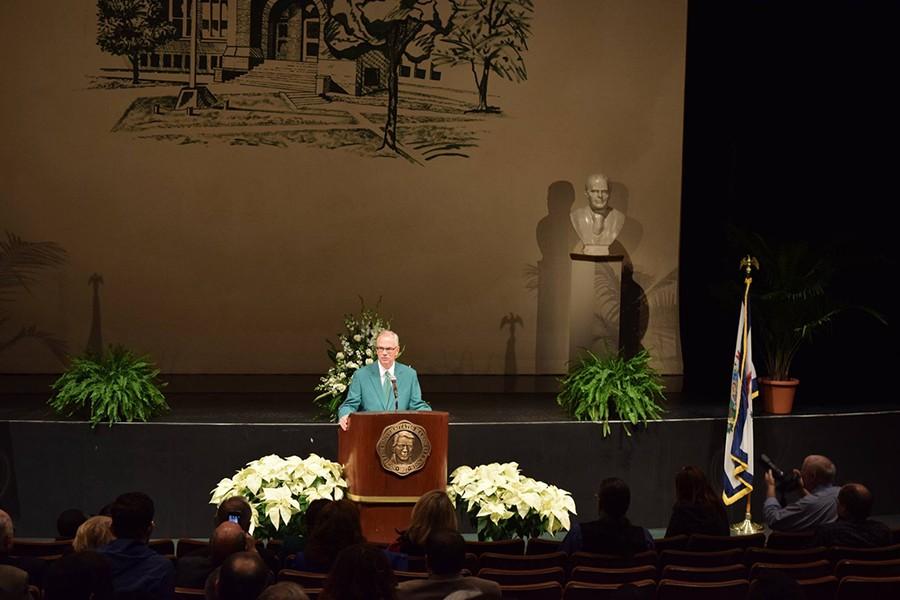 Ashley Sodosky
Marshall University's 37th president Jerome A. "Jerry" Gilbert was officially welcomed by students, faculty and the Huntington community yesterday afternoon.
The Marshall University Board of Governors hosted a public welcoming of Dr. Gilbert and his wife Leigh yesterday in the Joan C. Edwards Performing Arts Center on the Huntington campus.
The event included guest speakers in welcoming the Gilberts to the school including, Board of Governors chairman, Michael G. Sellards.
"Dr. Gilbert's presidency promises to be an exciting new chapter for Marshall University," Sellards said. "His leadership and vision are just what we need to propel us forward to become an even greater university."
Faculty, staff, students and members of the Huntington community filled the seats of the performing arts center to listen to notable speakers welcome Gilbert. Student body president Duncan Waugaman said he believes the students of Marshall will be happy with the new president.
"I believe we hit the nail on the head when we picked Dr. Gilbert to come lead our institution," Waugaman said.
Waugaman said he recalled a meeting with Gilbert earlier in the day where students were continuously mentioned.
"He understands the importance that he has in not only our students educational success but them as leaders," Waugaman said. "I believe if he continues to have that student mindset, he will be able to continue that success that we've had."
Both Waugaman and Interim President, Gary White, mentioned Gilbert's presence at this year anniversary of the Marshall University plane crash. White said the history of Marshall is about family that rises from adversity.
"I think we are well positioned to build upon the foundation and the legacy that those who have come before us have created," White said. "I think Marshall University will once again emerge from an adversity with a winning spirit."
White recalled on his past year serving as Marshall's president and said Marshall's future is in good hands.
"I've said it more than once that I believe we have the right person," White said. "We have a visionary leader, we have a person with a steady hand and we have a superb academic leader in Dr. Jerry Gilbert."
Gilbert, formerly the provost and executive vice president of Mississippi State University, is a Mississippi native with a background in biomedical engineering.
After being cloaked with a Kelly green sport coat from White, Gilbert thanked Marshall University for welcoming him and his wife Leigh.
Gilbert said he and his wife already love the university and Huntington. Gilbert said after the fountain ceremony this November he thought deeper on the phrase "We are Marshall."
"I knew the 'we' was an inclusive 'we,' and that 'we' really stood for acceptance and respect," Gilbert said. "I want every student that walks on this campus to know that in their heart of hearts that they are special to Marshall."
Gilbert was named president in late October and will assume the presidential position in January 2016 in time for the new semester.
"I'm very proud to be the 37th president of Marshall University," Gilbert said. "The best is yet to come and I truly believe that and I hope that will be the case for Marshall."
Ashley Sodosky can be contacted at [email protected]