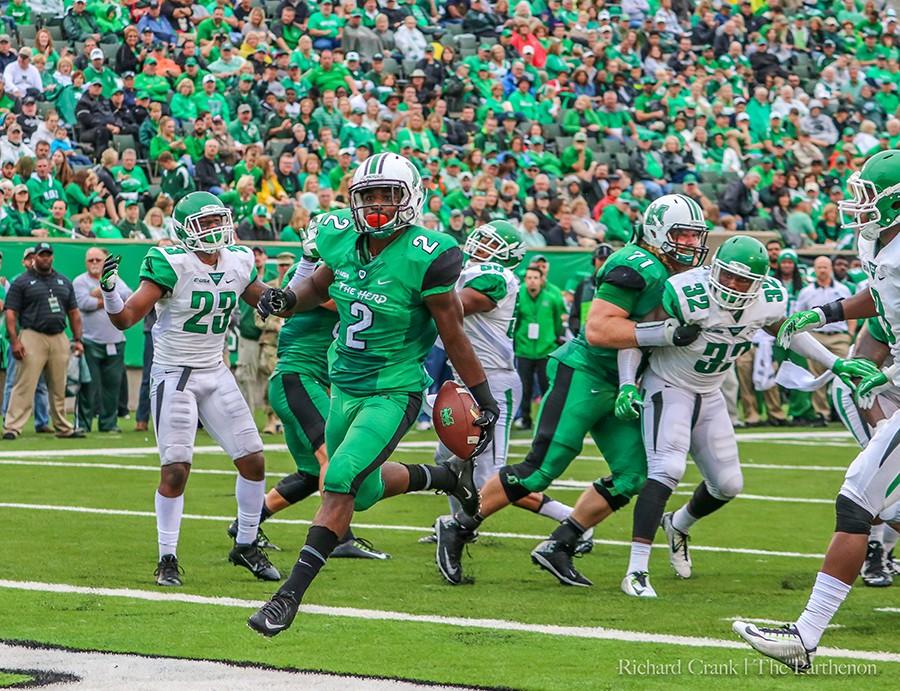 Richard Crank
Heading into Saturday's road contest, the Herd looks to remain on the winning track as it takes on the University of North Carolina at Charlotte.
Though Charlotte has yet to win a conference game, Marshall head coach Doc Holliday said it is a team with upset potential.
Holliday said Charlotte's grittiness and effort is a reflection of head coach Brad Lambert.
"Brad Lambert is a guy that I have great respect for," Holliday said. "He's done a great job with that football team and we've got to make sure we're prepared to play."
Coming into the contest, Charlotte ranks third C-USA in total defense, rushing defense and third-down defense.
Aside from its defense, 49ers running back Kalif Phillips ranks second in the conference in rushing yards per game (110.6).
While Phillips has been the consistent rusher for Charlotte throughout the season, Marshall moved slot receiver Hyleck Foster to the position due to injuries to running backs Devon Johnson, Remi Watson and Tony Pittman.
Foster rushed for 105 yards on 17 carries last week in the team's 30-13 victory against the University of North Texas.
"Its easy to put the ball in his hands and let him run with it," Holliday said. "Now he's starting to get better at the pass protecting part of it."
Marshall players will wear stickers with the No. 56 on their helmets to honor the late Phil Ratliff, the former Charlotee assitant coach who was a player and coach for the Herd before joining the 49ers staff.
Kickoff is set for 3:30 p.m. at Jerry Richardson Stadium in Charlotte, North Carolina.
Ishmael Witten can be contacted at [email protected]