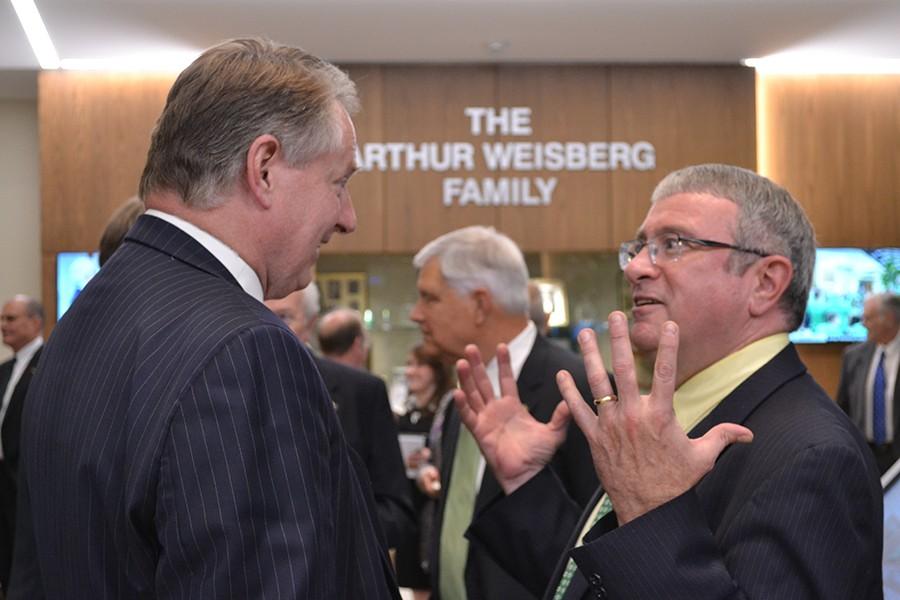 Rob Engle
The third and final Marshall University presidential candidate, Christopher G. Maples, addressed faculty, staff, community leaders and stakeholders about his vision for the university at the Arthur Weisburg Family Engineering Complex Thursday night.
Throughout the discussion, the geologist and president of Oregon Tech emphasized the importance of setting up students for success. Maples said this should be done, not by lowering the expectation for students, but by raising it for faculty.
"The worst thing in the world we can possibly do is get students in the door and then fail to support them so that they incur debt and don't even have a degree," Maples said. "They're worse off than if they hadn't even come. We need to raise our own bar of support internally to make sure they have the support to get through to the finish line."
Maples received his bachelors in geology from West Georgia University and his master's and doctorate in paleontology from Indiana University. Maples worked for more than a decade at the Kansas Geological Survey and also worked at the Desert Research Institute in Nevada.
For the past seven years, Maples has served as president of Oregon Tech, a college of about 4,000 students in Klamath Falls, Oregon, where he said he helped lead the university through a financial crisis.
"For the first five years, there was approximately a decline of 46 percent of state support," Maples said. "We collectively embraced the concept of not letting a crisis go to waste. We consolidated campuses. We increased efficiencies. We moved into new areas. Despite those cuts, we managed to increase the number of faculty."
Huntington Mayor Steve Williams asked Maples what role the university played in transforming the regional economy, to which the candidate responded that encouraging students to stay in the area post-graduation was a vital part of this.
"One problem for students today, that we didn't have, is student debt," Maples said. "When students graduate and they need to pay back loans, they leave the state because it's a solid paycheck. A lot of it is students knowing a pathway so that they can be part of the local community."
The candidate also noted areas of improvement he envisioned here at Marshall.
"It once took a high school degree to do things; that became an associate's degree, which became a bachelor's degree," Maples said. "Honestly, I think there is opportunity for Marshall to offer doctorate degree in areas that are going to be really important in the future."
Maples spoke frequently about the importance of a solid institutional network of support for students, noting that his favorite day is graduation day because, if the administration has correctly done its job, students will walk away with degrees in hand and bright futures ahead.
"The quality of an institution lives and dies with faculty and staff," Maples said. "Students and administrators come and go, but the reputation of a university is how the faculty teaches and the relationship they form with students."
Maples said the way to build a strong faculty is to hold people accountable, give them the authority todo their job and support them. Maples noted that he does this by being active throughout campus.
"I'm really a walk-around kind of person," Maples said. "I show up unexpectedly in places. I have actually been thanked by one of my faculty spouses, because the threat of me dropping into her husband's office finally got him to clean it," Maples joked.
The candidate ended his address by thanking the attendees for their dedication to the University.
"When I first got to Oregon Tech I heard, 'It's a hidden gem,' I've already heard that about Marshall a few times," Maples said. "It's really exciting to see this kind of support from the Marshall community."
Rob Engle can be contacted at [email protected]