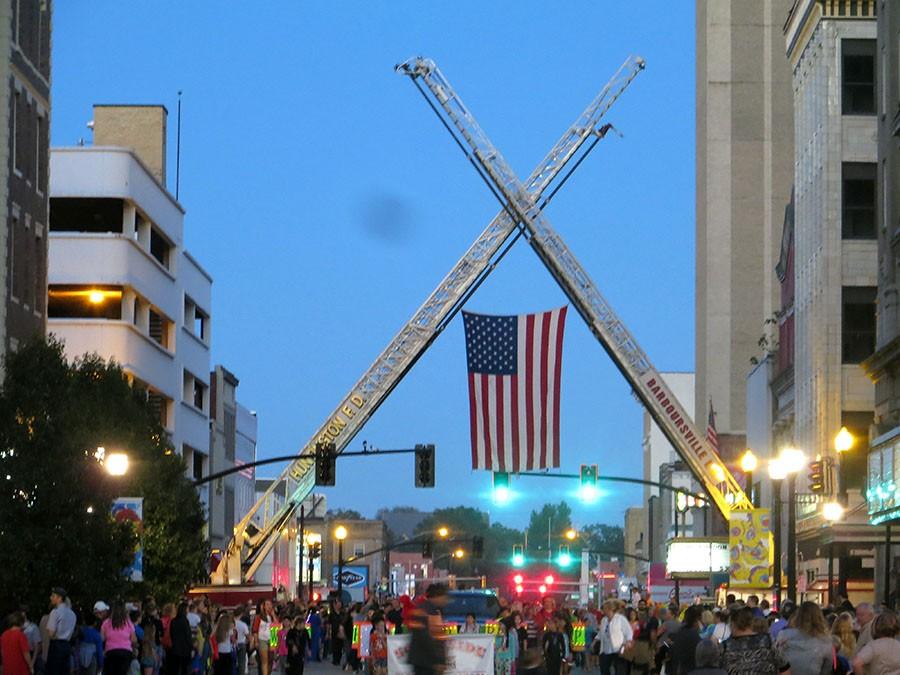 Hundreds gathered to watch or participate in the 62nd Annual Fire Prevention Parade on 4th Avenue in Huntington, last night.
The Huntington Fire Department uses the annual parade to bring the community together and raise awareness for general fire safety as well as other specific topics.
The 1st week of Oct. is annually designated National Fire Prevention Week by the National Fire Protection Association. National Fire Prevention week dates back to 1922 and commemorates the Great Chicago Fire of 1871.
Each year, the NFPA establishes a theme for the week to help educate those on the importance of fire safety. "Hear the Beep Where You Sleep" is the theme of this year's prevention week.
"Statistics say that roughly half of all residential fire fatalities result from fires reported between 11 p.m. and 7 a.m., when most people are asleep," Fire Parade Coordinator, Lieutenant Scott L. Ramey said.
"We invite all of the city fire patrol groups from the elementary schools to participate," Ramey said. "As well as numerous other organizations and fire departments from the surrounding area."
The parade included performances from local high school bands, cheer squads, dance schools, theater companies and more.
Children from local elementary school fire patrol groups performed skits to promote the year's fire safety theme. Students from Southside Elementary in Huntington wore pajamas during their march in the parade to represent the theme of having smoke detectors in each bedroom of the home.
As part of the parade festivities, HFD invites girls from area schools to write essays about fire safety based on the year's Fire Prevention Week theme. The girl with the winning essay in each age-based category is crowned Miss Spark for students in elementary school, Miss Ember for middle school students and Miss Flame for high school students.
"I'm happy my essay won," Kaitlyn Keesee, a sixth grade student at Huntington Middle School said. Keesee will be the parade's Miss Ember. "I've never actually been a Miss anything in a parade before."
The parade allows the community to interact with members of the local fire department as well as open a dialogue about fire safety in their homes.
"It's great for the kids," Huntington Police Chief Joe Ciccarelli said. "It's another way to recognize our firefighters and what they do.
"It's important to appreciate everything," Keesee said. "Because one day you might have it all and the next it might all be gone."
MacKenzi Kyle can be contacted at [email protected]