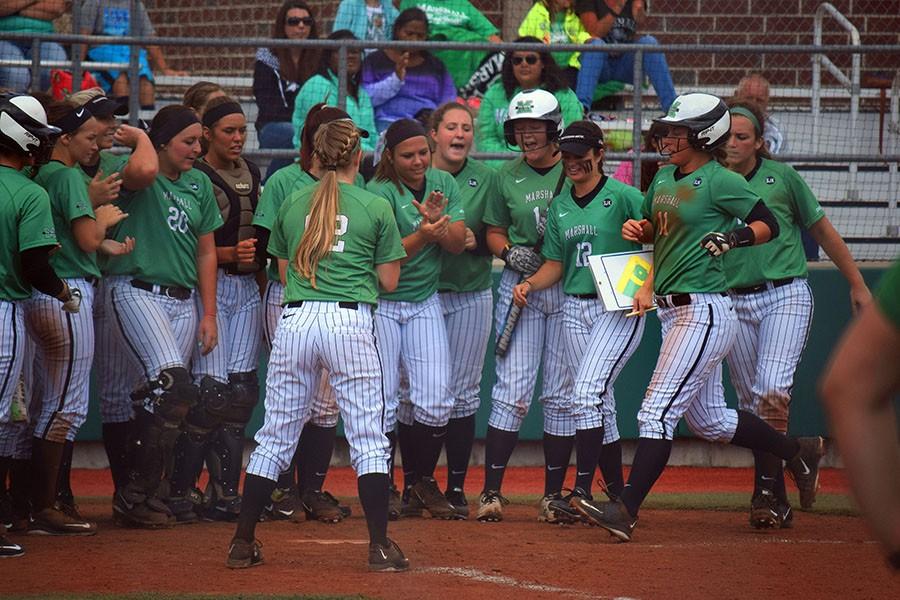 Shannon Stowers
The powerful Marshall University's softball team's offense was on full display Sunday when it faced the University of Charleston in a fall exhibition doubleheader.
Marshall cruised to a victory in their first game winning 16-2. The win was highlighted by a 10-run third inning, in which the Herd cycled through its batting order multiple times.
Though these were only preseason games, don't tell junior Morgan Zerkle. She belted a three-run home run in the first game and maintained powerful hitting contact throughout the doubleheader totaling four hits, four runs and four RBIs. She attributes her hitting style to her offseason workouts.
"Over the summer, I've just been lifting a lot of weights. Last year, I slapped a lot more home runs, so I've just been trying to hit a lot more in practice," Zerkle said.
Even pitcher Cheyenne Meyer got in on the offensive action. Meyer hit a homerun on the first pitch of her first career at-bat. Meyer, a relief pitcher from Port Republic, N.J., said that it was great to get that pitching and hitting experience.
"It felt nice to up the tempo and hit my first home run. I wasn't expecting to hit it on my first pitch like that. This was just a great warm-up for the team," Meyer said.
The second game of the doubleheader proved to be more a defensive effort for the Herd. Despite winning 7-3, the tying run came to the plate for Charleston in the sixth inning. The threat was over when the batter grounded into a 5-4-3 double play to end the inning. Despite Marshall getting into a jam, senior Katalin Lucas was confident in her team's bullpen.
"To be honest with you, I didn't even know that the tying run was at the plate," Lucas said. "We just went out there and ended the threat. That's all we can really do as a team."
The Herd turned three double plays in the second game, and senior Raquel Escareno said that proves this team is talented on both sides.
"We just have way too many tools in the bag with this team," Escareno said. "We're so complete, and I think that showed today. It's so good to get out here and play fall ball in order to warm up for this season."
The season opener will be at noon on Oct. 4 at home against Concord.
Josh Hughes can be contacted at [email protected]