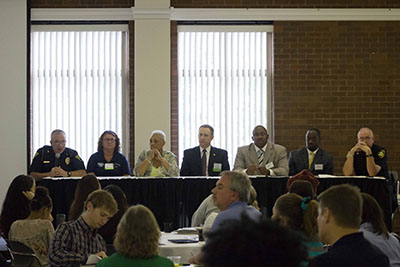 Ryan Fischer
The second annual Tri-State Conference on Diversity and Inclusion was held at the Marshall University Memorial Student Center on Friday. The event ran from 8 a.m. to 3 p.m.
About 170 people attended the event. The conference was split up into several sections. The event started with the opening remarks, which lead into a panel discussion made of 7 people from different police departments.
The different policemen and women discussed the importance of understanding diversity when dealing with crime.
"You have to know police officers and especially here on campus, they have to know you too when they talk about perception," retired police Chief Ivin Lee said. "We're not all bad and we're not all good, but I believe that training is indeed the key."
After the panel, the conference broke into concurrent sessions. During this time, attendees separated into groups to go listen to different speakers of their choice.
After the concurrent sessions, it was time for the keynote speaker, Tim Wise.
Wise spent the last 20 years speaking in all 50 states on diversity issues.
When discussing where racism comes from, Wise said, "you are used to being the king of the hill, you are not used to sharing the hill. When you are used to have 90 percent, don't tell me I'm getting 70 cause that's like my world coming to an end."
Shelby L. Campbell, assistant dean for Diversity for Marshall University's JCE School of Medicine and School of Pharmacy, organized the event.
"We have to keep working, keep collaborating and keep the dialogue open so that we can address head on the things that are happening in our institutions and within our communities," Campbell said.
In the weeks leading up to the conference, it was said that there was going to be a group protest of the conference, although no one showed up to do such.
Marshall student, Matt Schiffhauer, showed up outside the event with a sign reading "just want to talk." He was there in retaliation in case anyone showed up to protest the event. He arrived at about 10 a.m. and left at noon.
"I have sat down with someone and had an unexpected life-changing conversation. Who's to say one of these couldn't happen today," Schiffhauer said. "Who's to say one of these could not happen now?"
Matthew Prandoni can be contacted at [email protected]