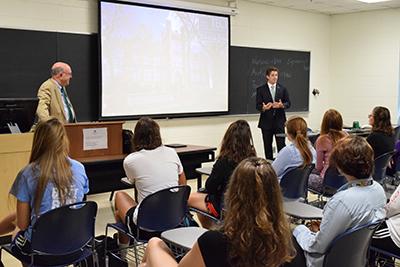 Ashley Sodosky
Interim President Gary White and Student Body President Duncan Waugaman finished up their 3rd week of University 100 yesterday morning. The two have been co-leading the freshman class and have only four weeks left.
UNI 100 is the academic component of Week of Welcome, a freshman program implemented by the academic leadership team. The program was adopted in 2010 to help improve retention rates from fall of the student's first year to fall of the next.
Each UNI 100 class is lead by a university staff facilitator and a Marshall student. White and Waugaman bring a presidential edge to their classroom. Matt James, Assistant Dean of Student Affairs, said the pair is unique and works well.
"We thought that Duncan and President White were similar enough that they would work well together but their stories and skill sets were different enough that they were a good pair," James said. "They balance each other out."
Since the start of WOW and the UNI program, retention rates have grown about 6 percent. James thinks this growth can be partly attributed to the program
The program implements a partly student lead class, which James said is important for student interaction and contact in all classes, including the President's.
This years Uni 100 class focuses on students writing their "Marshall Story". The focus is on preparing Marshall freshman for their next few years. Waugaman thinks the program is important to all students.
"It's prevalent to upper classmen as well. I am learning just as much as them," Waugaman said in reference to his class.
Waugaman said specifically of his class, the contact with President White is unique and special to students who may otherwise have never met him.
UNI 100 will finish in four weeks with the final lesson being class registration and students finalizing their prospective Marshall Stories.
Ashley Sodosky can be contacted at [email protected]