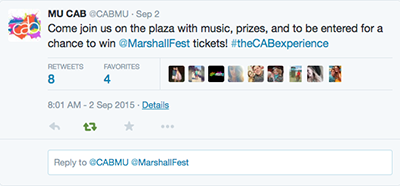 Twitter Screenshot
CAB On the Plaza offers students information on campus activities, like FEST:2 and offers students the chance to win various prizes. The event is held every Wednesday from 10 A.M. to 2 P.M. on the Memorial Student Center Plaza.
The Campus Activity Board started the event last year and has used it as a way to get students involved with planning and allows students to meet and interact with the "CAB 99", other students who are involved in one aspect or another with CAB.
Senior public health major, Zachary Hill, says he likes CAB on the Plaza because it gives him a chance to win prizes.
"There's an opportunity to always win something," Hill said. "I won a water bottle one time and then a chance to win a FEST:2 tickets another time. Its also cool to see and meet the people who are involved with CAB."
Sophomore marketing major, Lindsey Thomas, says she likes that CAB on the Plaza keeps her informed.
"I stop by usually to ask what's going on for the week in the CAB world and what events are going on around campus," Thomas said. "I always try to find time to go to the events on campus because they're fun and it's something my friends and I enjoy."
Junior communication disorders major, Jordan Blankenship, stops by every Wednesday on her way to class.
"I like to stop by to try and win something and interact with the students who work with CAB," Blankenship said. "I've always thought about joining and when I have more time, I plan on applying. They do so much cool stuff around campus and the people I have met that work with CAB are very nice and know all about the events when I ask them about what's going on."
Lee Tabor, Coordinator of Student Activities says not only students working with CAB benefit but the staff members who are involved as well.
"This is a great opportunity for us to get out amongst the students to not only gauge their interest, but get them directly involved with CAB."
Sarah Dyke, Campus Activities Board Advisor says that the CAB 99 students enjoy the weekly event because it gives them a chance to showcase their hard work while also having fun.
"This event helps Campus Activities Board get our name out there and shows students that there's more to do on campus than just going to class and going home," Dyke said.
Desmond Groves can be contacted at [email protected]