Battle At The Big Sandy: Fighter Profile
More stories from Kelsie Lively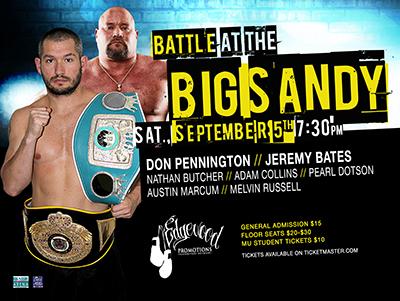 Tickets:
General Admission: $15
Floor Seats: $20 – $30
MU Student Tickets: $10
"Dirty" Don Pennington (7-0-1)
Hometown: Huntington, West Virginia
Division: Super Middleweight
Age: 33
Height: 5' 10"
Weight: 160
Stance: Orthodox
Trainer: Ryan Browning
Debut: March 9, 2013
Last Fight: Shane Gierke (5-34-2)
February 28, 2015
Rounds: 4/4
Decision: Unanimous
Huntington native and Marshall University Alum "Dirty" Don Pennington has been boxing local professional bouts for a little over two years. With his next fight just days away the opportunity arose to sit down and talk with him about his preparation as both a fighter and the event promotor.
How long have you been preparing for this fight?
DON PENNINGTON: I stay in the gym very consistently that way I don't get too bad out of shape. This fight coming up we trained pretty much all summer, well after June, we pushed it really hard the past 60 days in July and August.
How did you become a professional boxer?
DP: I've got to give a lot of credit to Chase Hill, he is a former promoter and currently with the WV Athletic Commission, I had previously won about three (West Virginia) Toughman and one Rough and Rowdy. I was actually sitting in the crowd watching a boxing event one time and they needed a guy, it was an amateur fight, I stepped in and won the fight by stoppage, by knocking the guy out. Then Chase Hill called me later asked if I wanted to fight for an amateur championship and I wont that belt. Then he said 'would you like to go pro', I said yeah. So far we just keep winning.
Describe your fighting style.
DP: I'm a pressure fighter. I always come in really good shape, that my goal, be in shape and throw way more punches than my opponent. I come forward and throw a lot of punches.
Who is your biggest inspiration in the sport?
DP: I wouldn't necessarily say any one in particular. I don't know…I have great admiration for anybody who just has a relentless pursuit to try to be good at anything they do, it doesn't even necessarily have to be boxing. Someone who keeps trying, trying, trying, and trying I admire them.
What does it mean (for you) to be a boxer?
DP: To be a boxer? I do a lot of things, I'm a teacher as well, but, when I first picked up the sport of boxing I didn't understand how hard it was. I always watched it on TV, I just didn't realize the difficulty, and once I started working out and training, then I had a fight or two with the Toughman and stuff like that, I just thought 'this is so difficult, if I could be good at this I can be good at anything.'
(On being a teacher) How do your students respond to your boxing?
DP: They like it. They comment all the time 'Dirty' Don. I don't think any of them are afraid of me or anything like that. I've actually had students that I've introduced to the sport that have come to fights, I have a couple students that come to every single fight. They have actually got involved themselves and had a couple amateur fights.
What do you think separates yourself you from other fighters in your division or in the state?
DP: Well, were all kind of part-time fighters, most of the guys in West Virginia and a lot of the surrounding areas (have other jobs). There is a big separation between guys who have a job and fight and the guys that fight as their full time job. One, is how much money you make, that's a big separation. Two, I think what kind of puts me apart is it has to be in the training. I'll get up early, sometimes 4:30 A.M., when we're in training camp and run and do different things. I think that probably is the biggest thing, just being in shape.
If you could have one dream fight with anyone, who would it be?
DP: It would definitely be another fighter with a style like mine. I think that would be an interesting fight for fans to watch. I feel like somebody would get knocked out whether it would be me or that person. If it would be (big) name person, Miguel Cotto comes to mind he's really really good. He would probably come in and kill me (laughs). He's got a good style.
Where would you like to see boxing as a sport progress in West Virginia and the surrounding areas?
DP: This is my first time promoting the show and it has been quite the experience. I would love to get some of the West Virginia guys and some of the surrounding area guys just a chance to showcase their talents in front of their home crowds. One thing that I got lucky to do was go and fight in front of my home crowd and a lot of guys don't. I would like to get that and then (to the point) where they could get a shot to get on TV or some of these big time fights to where they can make some money.
How did you become a promoter as well as a fighter?
DP: Chase Hill took the job with the West Virginia Athletic Commission, there are some promotors in Northern West Virginia but nobody doing the Huntington and Southern West Virginia area, so I'm going to attempt to fill his shoes.
With MMA in the media so much lately, would you ever consider crossing over to MMA or promoting it in the state?
DP: I wouldn't mind promoting MMA. I probably wouldn't fight in it, nothing against it, I've never really tried it and at 33 years old it would probably be an awkward transition. I do enjoy the sport, I have respect for it.
What do you want to be remembered for at the end of your career?
DP: I don't know, people are going to have different opinions about you as a fighter. People's opinions are hard on fighters, some people say they're terrible when they're really not bad. So, that stuff I don't really worry about. Some people are going to say I'm really good, some people are going to say I'm really bad. At the end of the boxing where I'm trying to start doing the promoting I would really like to take care of my fighters and for them to talk good about me. That I definitely tried to take care of them, give them the best deal I could.
Following his fight Saturday, Pennington hopes to have another fight scheduled this fall during Marshall University Football's by-week to defend his West Virginia State Championship belt.
Kelsie Lively can be contacted at [email protected]
Battle at the Big Sandy Fight Card
09/05/15
Professional: All fights scheduled for 4 rounds.
Amateur: Non USA Boxing Scheduled for 3 one minute rounds.
Luke Lyons  vs.Brandon Perkins 3 rounds Amateur
Jake Taft vs. Carl Smith 3 rounds Amateur
Austin Marcum (9-6-1) vs. TBD 4 rounds Professional
Lamont Edney (Debut) vs. Melvin Russell (1-0)4 rounds Professional
Chris Brown (1-2-2) vs. Dell Long (1-0) 4 rounds Professional
Hunter Russell vs. Andrew Floyd 3 rounds Amateur
Pearl Dotson (9-4-1) vs. Justin Novaria (5-20) 4 rounds Professional
Adam Collins (12-10) vs. Eric Slocum (0-6) 4 rounds Professional
Nathan Butcher (3-3-2) vs  TBD  4 rounds Professional
Jeremy Bates (24-17-1) vs. Dante Craig (20-20-1)  4 rounds Professional
Don Pennington (7-0-1) vs. TBD  4 rounds Professional
*All Fights Are Subject to change.
Leave a Comment
Your donation will help continue the work of independent student journalism at Marshall University. If you benefit from The Parthenon's free content, please consider making a donation.