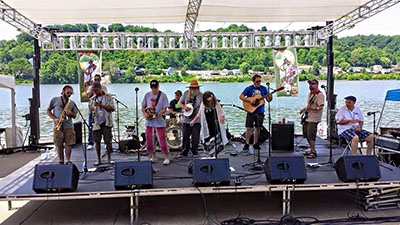 Don Gurda submitted photo
Long running Huntington funk string band, Big Rock and the CandyAss Mountain Boys, continue their monthly residency at Black Sheep Burritos and Brews.
"That spot has always been special in its different incarnations," said Dave Lavender, bassist and vocalist, "Some of the older members of Big Rock, which has been around for about 15 years, had played there when it was Calamity Café a bunch of times. So when Pat Guthrie opened up Black Sheep, we were magnetically drawn to the spot."
The monthly residency began as "string thing Thursdays" a monthly event that featured Appalachian string music and artists such as The Modock Rounders, Sasha Colette and Tyler Childers. "First Thursday of every month." said Rod Elkins, guitarist and vocalist. "It's not really a thing anymore, we're the last of the string things."
"We're in the truest sense of the word Americana." Lavender said. "Americana to me is American roots music. So we're all of that. We play old time jazz, including some West Virginia songs, obscure jazz tunes, old blues and old country, all through the instrumentation of an Appalachian string band. We do originals too."
"It's modern takes on old songs really." Elkins said. "A molding of old and new."
BRATCAMB are in the early stages of planning to record a new album.  "The first record had that great living room feel, so we're shopping around trying to figure out where to cut a live record like that." Lavender said. "The tough thing is getting eight or nine people together at the same place at the same time."
"We're really just trying to nail down everyone's schedules." Elkins said.
Multiple members of BRATCAMB play in other bands; Rod Elkins is a member of Tyler Childers and the Food Stamps and Deadbeats and Barkers. Saxophonist Ted Harris, a native of Athens, Ohio is the bandleader for the Word of Mouth Jazz Band.
"I think we're all in the band to hear Bo Masullo sing," said Lavender. "She's a fantastic front woman."
"Anytime people come, they like to move and groove." Lavender said. "We turn what's usually a listening room into a full dance party. It doesn't happen all of the time, but it happens a lot of the time."
"We love them." said Ian Thornton, booker and manager at Black Sheep, "They always bring a party. A fun loving crowd. It's so easy for things to get stale, but they've been able to hold on to their crowd more-so than about anybody."
Big Rock and the CandyAss Mountain Boys perform at Black Sheep Burritos and Brews the first Thursday of every month. On Thursday Sept. 17 they'll play the last Buddy's Bike Night of the season.
Nathan can be contacted at [email protected]