New Bison Thunder Into Huntington
More stories from Desmond Groves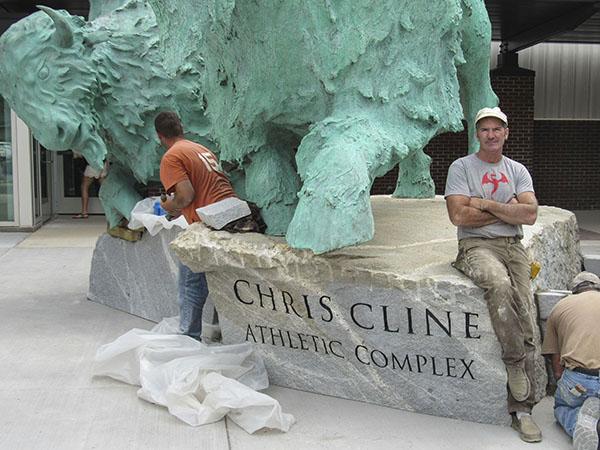 Marshall University received three, two-ton, eight-foot sculptures outside of new athletic facility.
Athens, Georgia artist Stan Mullins created the massive bronze bison. The project came about after former assistant coach for Marshall University, Red Dawson, approached him.
"I met Red Dawson through mutual friends of ours," Mullins said. "He's a painter as well and among all the other things he does but he came down to my studio over in Athens, Georgia and I had a small sculpture of a buffalo and he immediately saw it. I had no idea of the connection. He loved the buffalo and he just got the ball rolling."
The project has been in the making all over the United States but the work has been done primarily in his studio located in Athens.
"
"Well, one is a buffalo, two is a couple and three is a herd."
— Stan Mullins
"It's a public art piece, so there are checkpoints and things I have to come up with to make sure everybody is on the same page." Mullins said. " I then went to the founder I deal with on some of my larger projects, which is located just south of the Atlanta airport, and so two of them were cast there. The third one, because of time constraint, I went to Colorado and worked with a founder out there."
The project has been in talking stages for a long time but Mullins has been working on the sculptures for little over a year and was inspired to do the project by the 2000 documentary Marshall University: Ashes to Glory.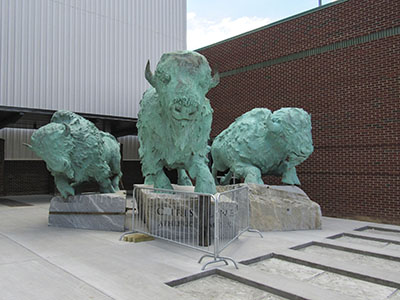 "It's been a great team effort. Everybody from here [Huntington], everybody I have on the artistic side of things such as the craftsmen I work with." Mullins said. "It's been so cohesive everybody has rallied around it and it's been such a great mission and a great project."
Mullins said he has had a good time working on the piece.
"It's all been pretty damn good. It's a dream job. Its inspirational, it's got such a deep meaning and it's so important to not just Marshall but the whole community of Huntington."
Why three bison? Mullins responded with this.
"Well, one is a buffalo, two is a couple and three is a herd."
Senior volleyball player for Marshall, Jill Shemanski had positive things to say about the new pieces.
"I think they are gorgeous." Shemanski said. "It's a cool piece to have to the new facility."
The pieces are expected to be finished by the ribbon cutting ceremony on September 6.
Desmond can be contacted at [email protected]
Leave a Comment
Your donation will help continue the work of independent student journalism at Marshall University. If you benefit from The Parthenon's free content, please consider making a donation.