From shot caller to white collar
Steve Williams' journey from Herd QB to Huntington mayor
More stories from Kasey Madden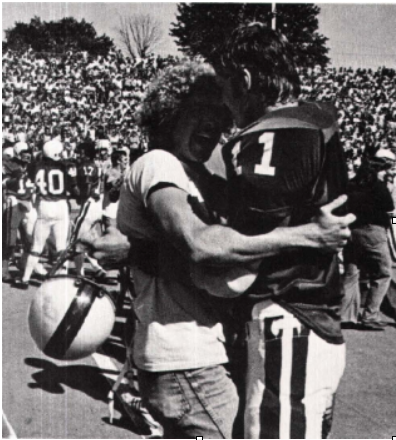 When he first stepped foot on a field to play football at age seven, he had no idea that step would lead him to Marshall University and eventually to serve as mayor of Huntington.
Steve Williams and his family moved to Huntington in the middle of Williams' junior year of high school, two years after the 1970 plane crash.
A photograph of the team from the 1970 season hangs behind Williams' desk in his mayoral office.
"I wanted it in my office to be a constant reminder," Williams said. "But anybody who is from Huntington who comes in here, I'm able to say, 'We've been taken to our knees and have learned to prevail.' It's a reminder that they are why I'm here."
Every day during practice, Williams would face the same defensive player. That defensive player is also still involved with Marshall Athletics, Mike Hamrick, the athletic director.
"When we were at Marshall, we didn't have a whole lot of success," Williams said. "But when I look at what we did, it is the foundation of everything that is being done now and in that regard I know that we're setting the stage for the next 50 years."
Williams said his journeys on the football field and to his office in City Hall have some parallels.
He began his freshman year playing quarterback but finished as wide receiver because other wide receivers sustained injuries through the season.
"I played three games where I played four separate positions in the game," Williams said. "I'd be a tight end one down, a quarterback the next down, or a wide receiver or a wingback. All I wanted to do was to play."
Williams was wide receiver and tight end his sophomore year. His junior year he moved back to quarterback.
When Williams began his political career, he was the city manager of Huntington, before the city switched to a mayor-council government.
Williams said he spent time working in the state legislature as a member of the West Virginia House of Delegates.
Then after the 2012 election, Williams found himself back in city hall, but this time as Huntington's mayor.
"In those years that I went from quarterback to tight end to wide receiver back to being quarterback, most of my time I played wide receiver," Williams said. "But when I stepped back into the huddle as a quarterback, that was natural to me. My first day in office here as mayor reminded me so much of that, I came back in and was like, 'This is where I belong.'"
The lessons Williams learned on the football field stick with him as he serves the city today.
"I felt I had to work harder than anybody else to make sure I was getting time to play," Williams said.
"I had to be in better shape than others, now what that translates to here, I was always the first on the field and the last to leave. I try to be the first in the office and the last to leave."
Williams currently serves as the president of the M Club, Marshall's organization of those who have participated and served in athletics.
"What's incredible is that we all are, whether male or female, we're all brothers and sisters because we competed at Marshall," Williams said.
He said he relates to the current athletes at Marshall because of that connection.
Williams said in addition to the lessons he learned on the field, the education he received at Marshall prepared him for his political career.
"I am what I am today because I am a son of Marshall," Williams said.
Kasey Madden can be contacted at [email protected]
Leave a Comment
Your donation will help continue the work of independent student journalism at Marshall University. If you benefit from The Parthenon's free content, please consider making a donation.