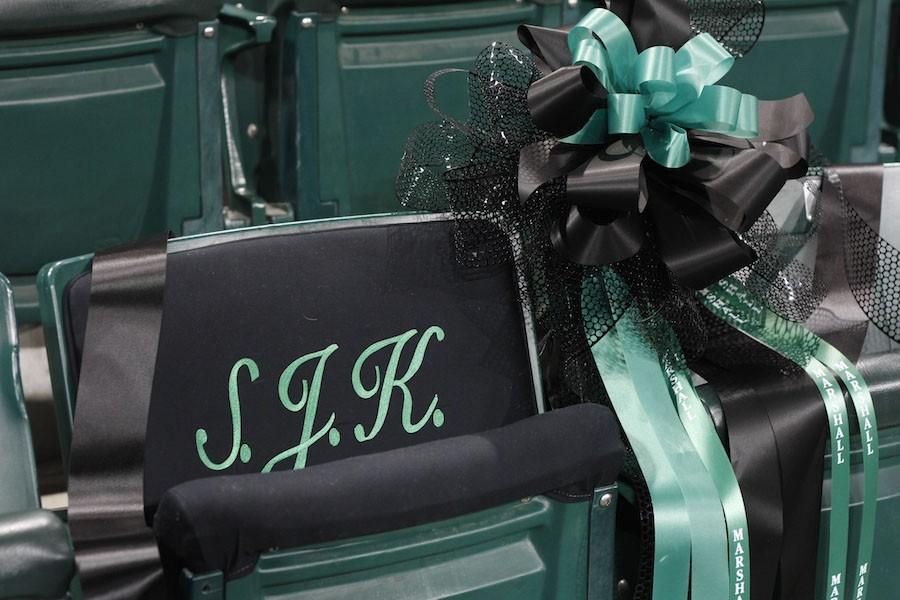 Andrea Steele
The Marshall University athletic department honored its late President Stephen J. Kopp by embroidering the seat he sat in during Marshall basketball games at the Cam Henderson Center.
The seat, embroidered with Kopp's initials, is located in the first row.
Athletes, coaches and audience members at Marshall know Kopp was always nearby at athletic events.
"He was the perfect guy to work for," said volleyball head coach Mitch Jacobs. "He was into athletics. He was into all sports, not just basketball. I always knew he was sitting right behind us. It's a great memorial."
Jacobs said he and his team felt special when Kopp came to their games.
"I would think that my team would feel pretty special when the president of the university doesn't just show up to a game here and there, but shows up and sits behind your bench night after night after night," Jacobs said.
Junior men's basketball player Justin Edmonds said the chair is a great way to honor the life of Kopp.
"It felt great to see him at so many games," Edmonds said. "For him to stick around through the tough times, it meant a lot to us."
"It's a sad loss for us and the university," Edmonds said. "I think he sat in the same chair almost every game. Every time we look over there we can tell even the fans have great respect for him because no one sits in that chair." 
Jill Shemanski can be contacted at [email protected]