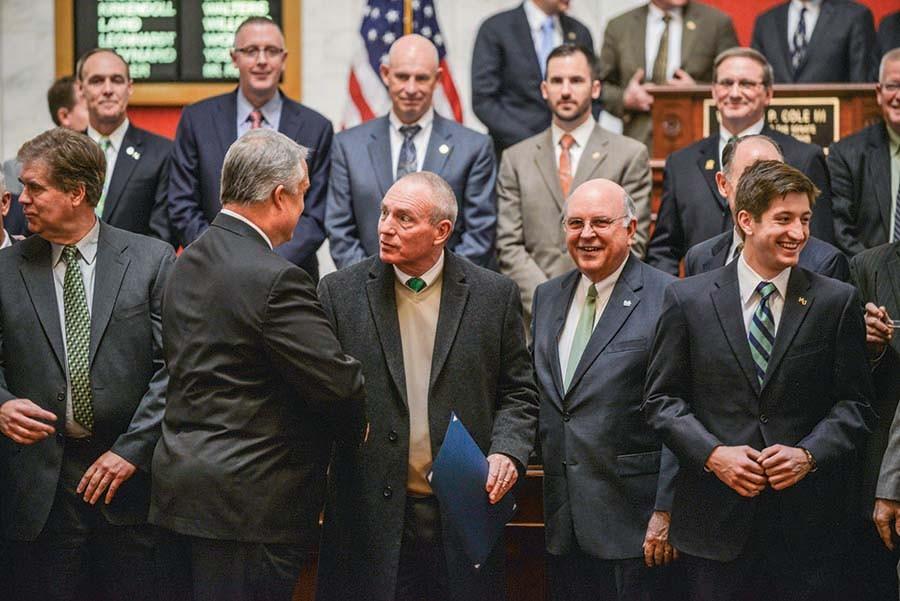 Lexi Browning
Inclement weather did not stop the West Virginia Legislature from paying tribute to President Stephen J. Kopp and recognizing the accomplishments of the 2014 Marshall football team Wednesday at Marshall University Day at the Capitol.
Senate Resolution 36, sponsored by Senator Robert Plymale, D-Wayne, memorialized the life of Kopp and elaborated on his accomplishments.
Gary White, Marshall interim president, said the resolution honoring Kopp, his personal friend, between both legislative chambers was a suiting privilege.
"He did so much for Marshall University in such a short period of time," White said. "I'm very pleased, and I think it was very fitting for both houses in the West Virginia Legislature to recognize his service with a resolution."
White echoed both chambers in saying not only had West Virginia adopted Kopp and his wife Jane Kopp as beloved residents, but the Kopp family had adopted and loved the state too.
"His death was untimely and tragic, but our job now is to protect the legacy that he created," White said. "We are honored to have the opportunity to do that as we search for a new permanent leader for Marshall University."
Duncan Waugaman, student body president, said the ceremony was touching.
"As Marshall people, we sit there and think that [Kopp] only really represented Marshall in what he did, but his efforts were echoed statewide and still echo today." Waugaman said.
Senate Resolution 37 honored the Marshall football team and designated Feb. 18, 2015 as Marshall University Day.
"It shows that people are interested in football, and our winning record is showing through," Waugaman said. "Our continued success will bring a lot of advertising and marketing to the university."
Though many representatives from Marshall were unable to venture out of Huntington due to the icy conditions, Matt Hayes, executive director of alumni relations and coordinator for Marshall Day at the Capitol, said the turnout still provided the university with an opportunity to have a presence at the Capitol.
"We take a lot of pride in how we showcase the very best of what's happening at Marshall University year after year, and it's a great opportunity," Hayes said. "We're thankful that we're afforded by our state leaders to come up and represent the university on this occasion."
Lexi Browning can be contacted at [email protected]