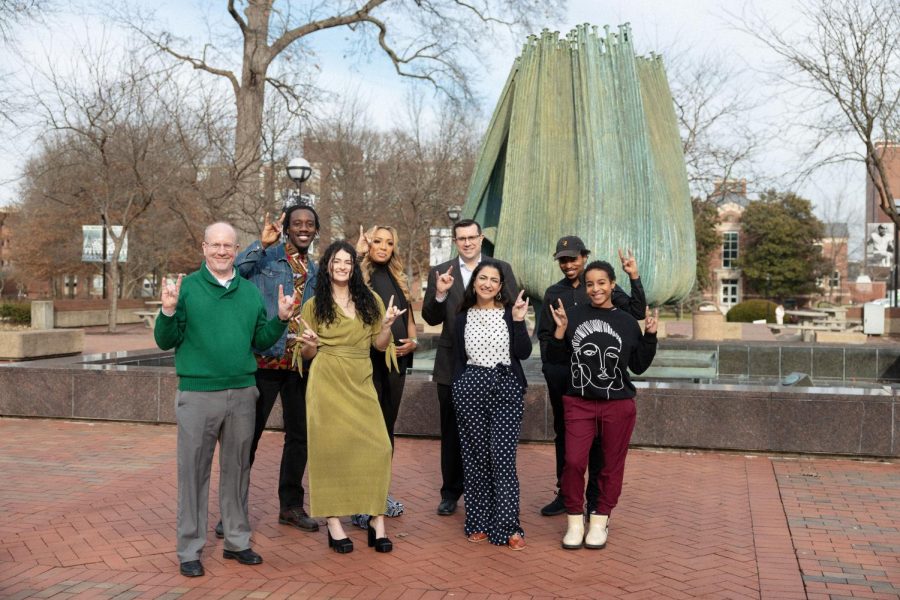 Cameron Donohue
Change is often defined as the ability to replace something with a new or better version of itself. It is synonymous with transformation, a word that goes a little further—a dramatic change in form. 
 With that in mind, the TEDxMarshallU theme of "stories that change us," can only be described as one that showcased the ability for one's story to take hold of someone, give them their form and create something new.  
The event featured eight speakers and an interview, each bringing their own unique perspective of storytelling to the floor. While most utilized a more traditional talk presentation style, the event also featured dance, artwork and a live musical performance braided throughout a presentation. 
"I think this brings inspiration and possibility," Marshall President Brad Smith said following the event. "People are able to hear a message that inspires them because our story is a unique story. We each have a story inside of us." 
"We have stories to listen to and stories to understand," Dan Hollis, a professor of journalism at Marshall, said during his talk. 
 Hollis and Dr. David Trowbridge represented Marshall as two of the university's faculty members to take the stage Saturday. From both of their talks came moments that discussed the importance of hearing every story. 
"You can understand everyone if you know their story," Trowbridge said during his talk. "Taking the time to understand someone's story is an act of love." 
The event played out like a story of change itself. The 2022 event was the first event in its history at Marshall to have a ticketed audience since the pandemic. It also hosted a very diverse lineup. Five of the 11 presenters were people of color and four were women. 
"It's really humbling, and exciting," Isaac Fadiga—also known by his stage name Shelem—said.  "Our music scene (in West Virginia) doesn't really have hip-hop incorporated in it, as of right now, so I am glad that I get to be one of the people who are changing that. Championing my state and what we have to offer is important to me." 
Shelem closed out the show with a hybrid-style approach to his talk, bringing the house down with an abbreviated version of his hit single "Suga Wata." It mixed both his musical talent and his intellectual talent as a civil engineer, showcasing how his songwriting ability can draw parallels to his time solving problems in his field. He and two other speakers opted for a different form of presentation.  
"I've recently discovered that I have a love for public speaking," Shelem said. "It's refreshing, being able to speak formally in a way that isn't just a part of my set on stage." 
Meanwhile, Brooke Watts—a multi award-winning performer and student at Marshall—performed a heartfelt tribute to her mother. Watts presented his mother's battle with cancer using dance with music conducted by a member of Marshall's faculty, Mark Zanter. 
Additionally, Danny McGinnist Jr, a mixed-media artist whose paintings tell stories of his subjects, presented a painting to finish his talk that he had made for the event. 
Along with the different forms of performance, Tedx had an overarching reach of Marshall's student body. Marshal students and Marshall alumni presented five of the nine talks. 
"Teaching at Marshall University is one of the greatest opportunities of my life," Trowbridge said, who is currently on sabbatical. "Teaching is a great job. In teaching, the way to be successful is to make other people successful. To have a job where your success is deeply connected to the success of others – I can't throw or hit a 99 miles per hour baseball – teaching is the next best thing." 
Among those students was Aryana Misaghi, a current medical student at Marshall's Joan C. Edwards School of Medicine. Her story came from a crowd-sourced competition between Marshall students. In her talk, she discussed her experience of knocking on doors to discuss her faith, giving insight to a story that few have heard from the other side of the door. 
"It is an immense honor," Misaghi said. "The lineup was beautiful. Every single person that performed is major leagues. They are doing huge things outside of the world and making an impact. The fact that I get to share a stage with them means so much to me." 
TEDx events always come with the possibility of these talks reaching a potential audience of millions. Each talk is edited and uploaded to their official channel. 
"There's potential for us to showcase the talent here. Not just our current students, but also alumni that come back and demonstrate the experience they have here," Matt James, assistant dean of student affairs, said. "You go out into the real world and come back to show how much of an impact that you make." 
In-person attendees also received custom sun catchers created by Blenko Glass Company, a company based in Milton, West Virginia. The TEDx association implies that organization, planning and preparation was all conducted in-house. Everything, from presentation to production, came from within Appalachia. 
"This has been an amazing experience," Brian Kinghorn, the lead event organizer, said. "We're so grateful to have this opportunity for our team to bring together some phenomenal speakers and performers and have an event that made a difference for our community. To do a TEDx event takes something that is much bigger than Huntington and Marshall and connects them to that outside world."  
Complete talks from this weekend and other talks from past events are uploaded to the TEDx Talks YouTube channel. They can be found by searching "TEDxMarshallU."