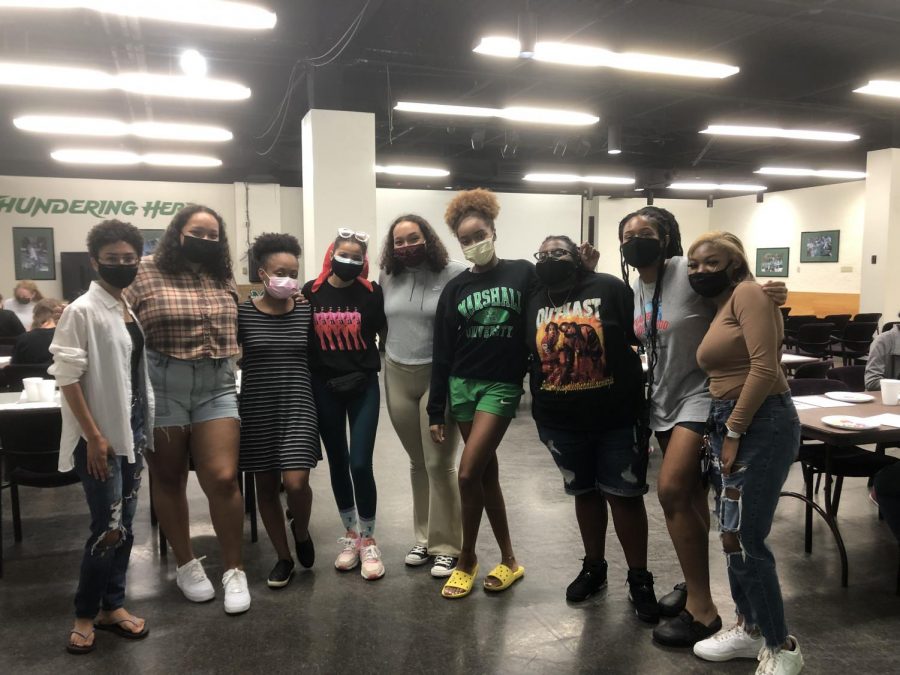 Black United Students held an Express Yourself, Trap and Paint session on Sept. 9. in Marcos, downstairs in the Memorial Student Center. 
Inspired by last semester's "Paint and Sip" events, Black United Students created a free-for-all painting session where students could express their creativity with friends while listening to music.  
Takira Williams, President of Black United Students said, "This evening has been planned for a long time now and we weren't able to execute it last year because of COVID. Even with COVID still being here, we really wanted to attack the students' stress that they may have built up since the start of school.  We find it really important to have some type of stress relief during the week because we can't be all work, work, work all the time." 
Kenaja Booth, Treasurer of Black United Students said, "We had a couple different ideas for this event and none of them seemed to click or feel right so, we decided to let the students do whatever they wanted. We have paint, canvases, music, snacks for them to just go with. We really just wanted to make this a safe and stress-free environment for everyone to enjoy." 
Ajia Toth, Secretary of Black United Students said, "We thought this was an important event to do for the third week of school because we know that midterms are coming up soon so, this would be a nice for students to just come in, relax, chat and use whatever creative liberties they wanted to make." 
Students said the event was a great way to relieve stress and express their creativity. 
Sarah Petrea, a music education major said, "Events like this make me happy. Painting often allows me to show how I'm feeling so being able to have creative freedom at the Express Yourself event will be an enjoyable way to end a stressful week and see how others perceive their own art." 
Samantha Taylor, an art major said, "Painting gives me a sense of release and gives me comfort in a way. To be able to go to a safe place to let what I'm feeling out is really great and I hope to see more like this." 
Lane Barker, an English major said, "Painting helps me let out my emotions in a positive way rather than negatively. Having mental health issues has also been a challenging thing to overcome so painting is my medium that I can go to, that is really relaxing and can help you get out of those bad ruts. Pouring everything that you are feeling onto a canvas really helps a lot so, I appreciate events like this around campus." 
Black United Students will be doing more events like this in the future and many others other than just painting.  
For more information, please visit their Instagram @mu_bus for updates and events or call them at 304-696 2298 for any other questions.