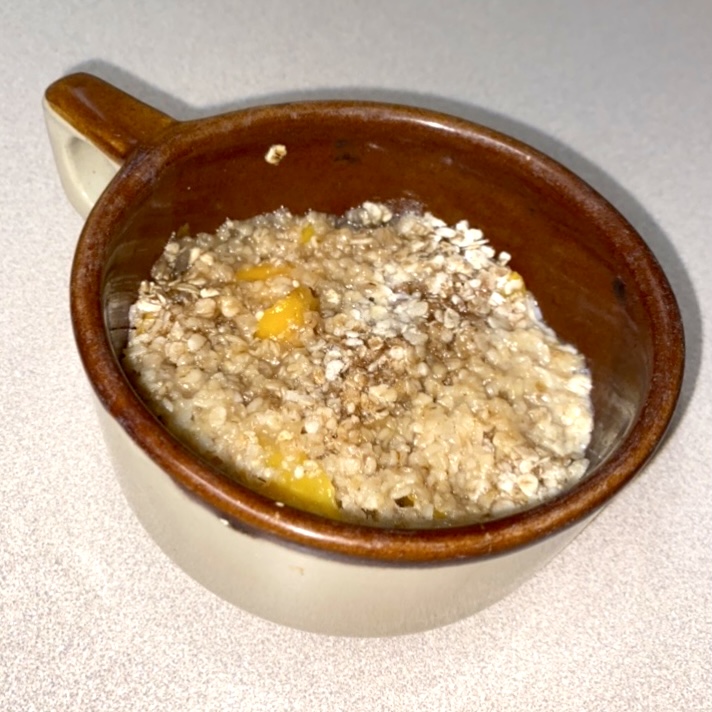 Maggie Lane
Peach Crisp in a Mug 
Ingredients:  
1/2 can peaches  
1 pack of instant brown sugar oatmeal 
1 Tbs butter 
Dash of cinnamon (if desired)  
Chopped nuts for garnish (if desired)   
Instructions:  
Cut peaches in half.
Place peaches in bottom of a microwave safe bowl. 
Layer oatmeal on top of peaches.  
Cut butter in Forths and layer in top.  
If desired, add cinnamon and nuts.  
Microwave for 3 minutes.  
Stir & enjoy! 
Baked Potato & Chicken 
Ingredients:  
1 russet potato  
1 can canned chicken  
sauce of your choice (BBQ, Buffalo)  
Ranch  
Instructions:  
Wash the potato. 
Poke holes all around the potato with a fork.  
Microwave potato for 6 minutes.  
Heat canned chicken in a bowl for 30 seconds, or until hot.  
Cut potato in half.  
Put desired sauce on top of chicken and mix.  
Put chicken inside the potato.  
Drizzle with ranch and enjoy!