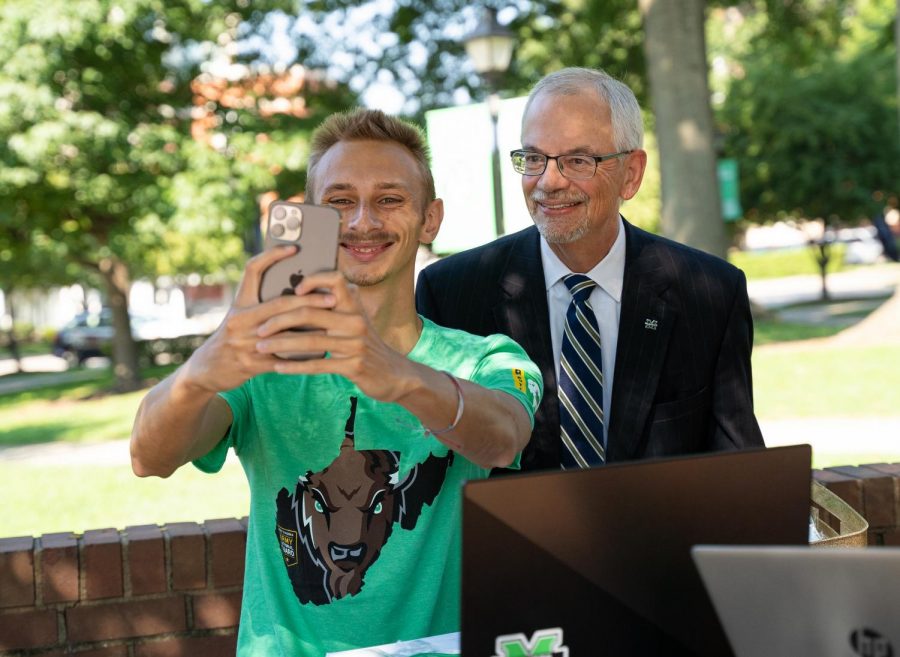 Greetings! As president of Marshall University, I am honored to be one of the first to officially welcome you to campus for our fall 2021 semester.  
It has been a very busy summer preparing for your return to campus.  Decisions about academics, activities, athletics and of course, health and safety, including masks and vaccines, have dominated our discussions. I want to reassure you that we have diligently planned, and are now executing, what I believe is the best strategy to have a successful and healthful year. But we need your help; please wear your mask and follow all other health and safety protocols on campus.  And, if you haven't had the COVID-19 vaccine yet, I strongly encourage you to consider getting one.   
I have been in higher education for more than forty years and I still get excited at the beginning of a school year. I hope you share my enthusiasm and are ready for a terrific term.  I also hope that you will come to understand and appreciate just how much you, the students, mean to me.  I have always tried to be a president who is visible, approachable and one who cares about you. I truly enjoy interacting with students and chances are we will see each other on campus in the coming months. Feel free to stop me and just say "hello." 
While this is my last year at Marshall University, I am, and always will be, an educator at heart with students as my first priority. I truly believe that education changes lives because I've seen hundreds and thousands of success stories.  I want you to be one of those success stories also and you can do that by following one important rule.  Go to class.  I can't stress class attendance enough.  Whether you're attending class in person or virtually, it's an essential cornerstone of education.  
Let me also encourage you to find your place here at Marshall. How do you do that on a campus with 12,000 students?  Begin by joining a campus organization or group, we have more than 250 of them.  Doing so is one of the best ways to feel connected to your new home.  
Finally, I encourage you to familiarize yourself with the Marshall University Creed. Its principles of independence, initiative, achievement, ethical integrity and a commitment to diversity are core values our Marshall community strives to follow.  
Again, I welcome you to Marshall University, and I want you to know that I am proud to be your president.  It will be a great year!  
Warmest regards, 
Jerome A. "Jerry" Gilbert 
President, Marshall University