Flash Flooding Leaves Huntington Drenched
Huntington had some major flooding issues Monday, but what caught some Marshall students by surprise was the flooding of Smith Hall. Starting around 4:15 p.m., water began to slither into Smith Hall through the south entrance automatic opening doors as students walked inside to cover themselves from the rain. The sensor then began to pick up on the water creeping through the door entrance and remained opened for a few hours until the flooding subsided.  
Smith Hall was eventually evacuated on Monday evening.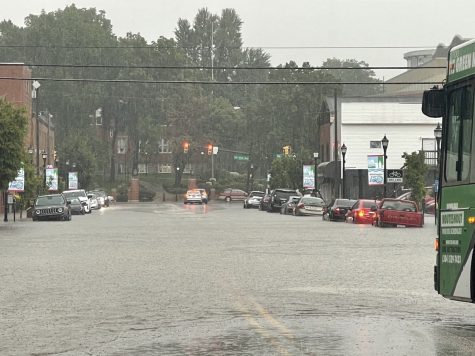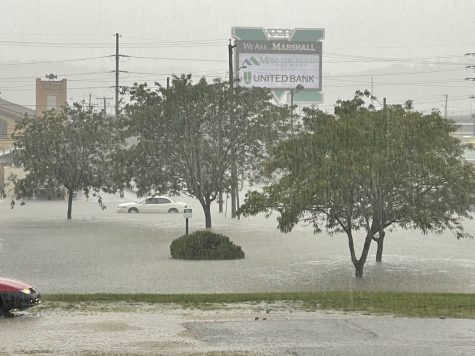 Smith Hall was not the only area that experienced flooding. Many students park their vehicles on roads surrounding the university, in particular Third and Fourth Avenue. Some experienced water that would fill floorboards, while others had more serious issues with their vehicles in attempts to flee the flooding. Marshall Sophomore Preston Hager is one of the unfortunate people that had flooding damage his vehicle.  
"I was rushing out from class to attempt to get to my car, I had no idea it was going to rain yesterday especially has bad has it did. When I attempted to start my vehicle there was no sounds from the engine, and my gauges were not moving at all. Water was filling up into my floorboards up to almost my knees. I have never been so freaked out in my whole life," he said.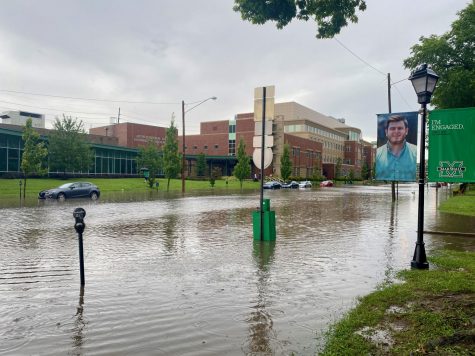 Another Marshall Senior Ryan Sirk was also attempting to beat the rain as it was falling yesterday, he said.  
"I can't believe how much it is raining right now, I have to rush home and make sure nothing is flooding at my house."  
The rain came fast and hard yesterday into the evening. There are varying reports of the amount of rain and the time span in which it came. Reports varied from 3.5 – 5 inches of rain in the span of 30 minutes to a couple hours. But regardless, every underpass in Huntington was flooded at some point according to the National Weather Service (NWS) in Charleston.  
A message sent by the Universities Communication Announcements via email informed students those classes in the lower levels of the Science Building and the Education Building would be either held virtually or cancelled through at least the end of this week due to water damage. 
Leave a Comment
Your donation will help continue the work of independent student journalism at Marshall University. If you benefit from The Parthenon's free content, please consider making a donation.