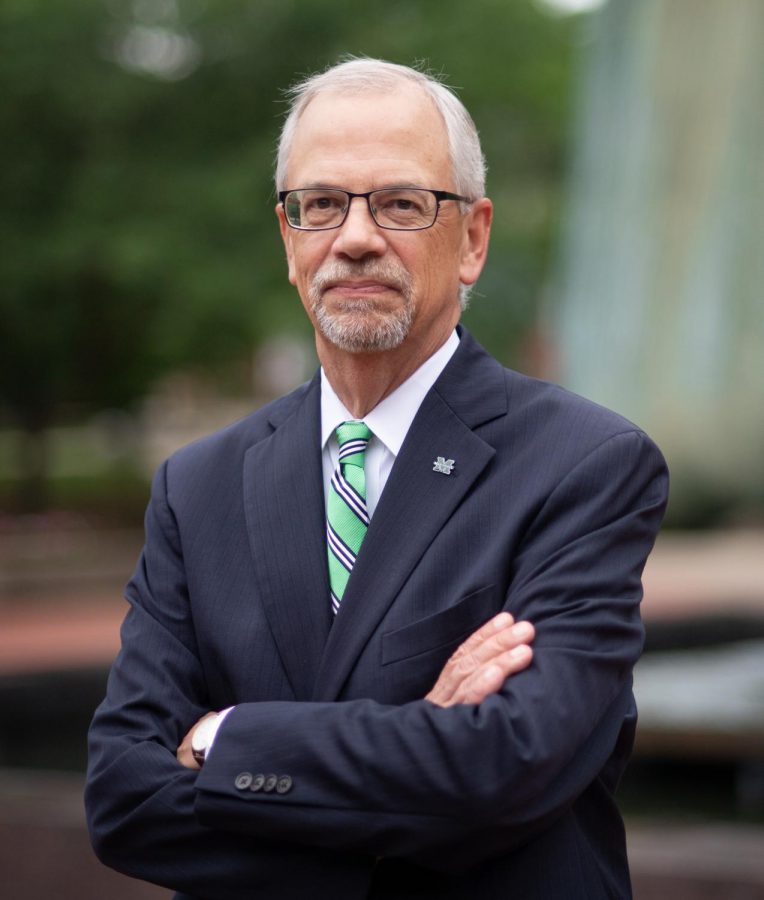 Courtesy of University Communications
When Marshall University announced Dr. Gilbert as its 37th president, the native Mississippian had big plans to make Marshall renowned nationally. In a time when many students are unsure of what their future may look like, Gilbert remains hopeful, not just for the future of Marshall University but for the entire state of West Virginia.
"We know that we've got to create more jobs in West Virginia," Gilbert said.
Gilbert discussed a call he was on with Jay Walder, CEO of Virgin Hyperloop, about the testing facility under construction in Tucker County and the need for educated workers in various fields to operate and build the ambitious new facility.
He said he recognizes the combined effort it will take to enhance the future of the West Virginian economy. Between companies coming in from other states and regions and a young workforce willing to be the pioneers in the process, Gilbert said it will be challenging; however, there is hope.
"We can't expect our graduates to stay in the state if there are no jobs for them, so our responsibility as higher education is to try and work with our state government, our economic development groups, to create those opportunities to foster job creation," Gilbert said.
Gilbert sees the effect the Mountain State can have on visitors firsthand. He mentioned his daughter, who was working in Washington D.C. but was stuck doing almost entirely remote work during the first wave of lockdowns in the spring of 2020 due to coronavirus.
After visiting Gilbert in Huntington, she and her husband decided to buy a house in Charleston, and they are currently living there.
"I think there are many people like my daughter and her husband who are thinking, maybe the dense city environment is not necessarily what I have to have. Maybe a place like West Virginia, which has a lot of outdoor appeal…and then some small-large cities like Huntington and Charleston… I think you have a tremendous advantage," Gilbert said.
Gilbert's work has been far-reaching, with noticeable changes like the student center's remodeling or achieving the status as a research two doctoral university. Still, Gilbert is just as proud of fixing minor scale problems that can often harm student success.
"Our retention rate and our graduation rate have both gone up in the last several years." Gilbert said the Friend at Marshall program created in the fall of 2019, which increased full-time freshman retention rates by 5%, a number that can be considered un- heard of across most institutions.
"Normally, you see 1% or a .05% percent – but to jump 5% in one year really told me that we are doing some things right and that we are connecting with the students that need assistance."
Gilbert added on discussing the outside pressures many students feel when arriving at a university, often not being school or class related.
"If you can study, go to class, apply yourself, then you'll be successful. We'll take care of all the rest."
Despite the successes Gilbert has achieved some goals have been more challenging to achieve than others. Gilbert mentioned his desire for Marshall's enrollment to increase faster, noted by his 2017 plan to increase enrollment to 15,000 by 2021, has been reevaluated – particularly due to the enrollment crisis colleges across the country have faced due to the on- going pandemic.
Outside of the classroom, Gilbert envisions an environment full of enrichment and unique experiences and believes time at a university is much more than a degree. That time at a university is an opportunity not just to create productive workers but also citizens who will give back to their community.
"I've always believed people should have beliefs… a set of moral guidelines in your life that guide your behavior. That gives you the orientation to live a life of integrity, meaning and respect for other people and adds to our society… We need to let our students know that we want to, not mold you but guide you in a way where you can discover what you feel is important and you become true to your beliefs, and you go out and act on those beliefs."
Dr. Gilbert gave an example from Dr. Martin Luther King saying:
"Dr. Martin Luther King said there were just laws and unjust laws, he believed in obeying those just laws, but the unjust laws he did not want to obey," Gilbert said, "and he was willing not to obey those un- just laws, and he was also willing to tell people he was doing it, why he was doing it, and to accept the conse- quences of going to jail as a result of it."
Anna Williams, Student Body President, said work- ing with him was a pleasure and said this of President Gilbert's commitment to students and the future of Marshall University:
"He is so dedicated to students, faculty, staff, and this community. He is a forward thinker. He likes to innovate and is always considering the next step."