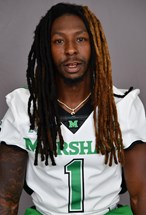 Photo Courtesy of HerdZone.com
ABOUT WILLIE JOHNSON
Position: Wide Receiver
Class: Redshirt Senior
Height: 6'0
Weight: 176 
Hometown: Fort Myers, Florida
PERFORMANCE vs. MTSU
8 receptions
137 receiving yards
2 touchdowns
After a career best performance against Middle Tennessee  Saturday, redshirt senior wide receiver Willie Johnson has earned athlete of the week honors.
His eight catches, 137 receiving yards and two touchdowns were all career high marks, according to HerdZone.com.
His previous career high in receptions and yards was the first game of his redshirt freshman season in 2017 against Miami Ohio when he caught seven passes for 88 yards. 
Coming into the game against the Blue Raiders, Johnson had seven receptions and 70 receiving yards in the five games he had played. In one game, he surpassed all his season totals.
He has 15 receptions and 207 yards on the season with two regular season games left as the schedule currently stands.
Long-yardage receptions and big plays have been the defining trait of Johnson's career as a receiver. On Saturday, that held true; he caught three passes over 20 yards, including two that were over 40 yards.
He exhibited the ability to catch short to medium range passes for first downs. On a third-and-9 and a second-and-5, he converted two first downs with a 10-yard reception and a five-yard reception, respectively.
When including his two 40-yard receptions, he had four receptions that went for first downs. He also drew a defensive holding penalty that procured another Marshall first down.
With the receiver group missing both Broc Thompson and Talik Keaton, it was an important performance for the Herd offense.