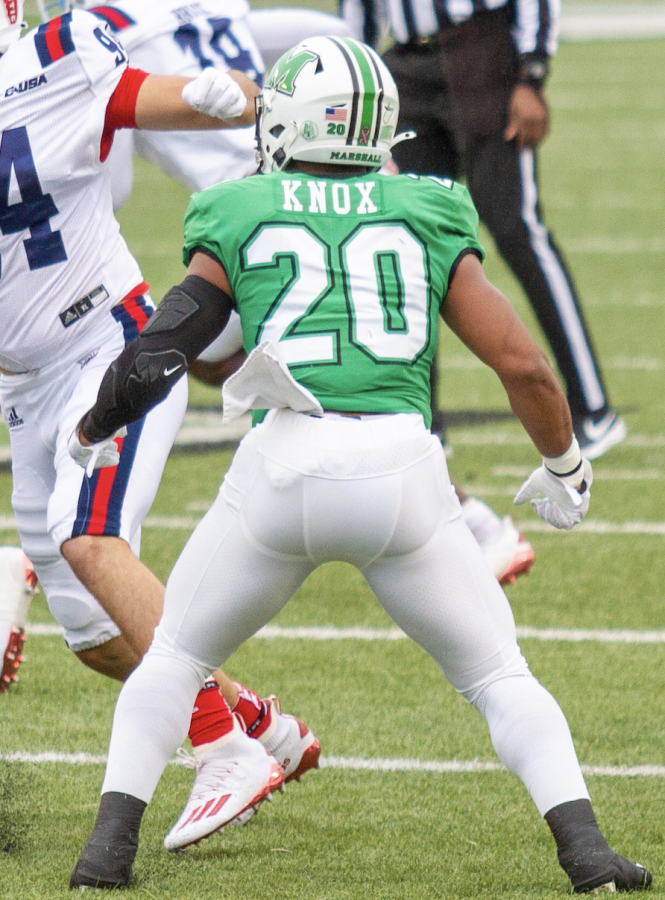 Zachary Hiser
ABOUT Brenden Knox:
POSITION: Running Back
CLASS: Redshirt Junior
HEIGHT: 6-0
WEIGHT: 223lbs
HOMETOWN: Columbus, Ohio
PERFORMANCE: 
156 all-purpose yards (101 rushing; 55 receiving), One receiving TD
After compiling 156 all-purpose yards and accomplishing a feat he had yet to achieve against Florida Atlantic on Saturday, redshirt junior running back Brenden Knox has earned athlete of the week honors. 
With the opening score of the game, Knox had his first career receiving touchdown. He took a short, check-down pass from quarterback Grant Wells 58 yards to the endzone, barreling over defenders at the goal line.
The 58-yard TD reception was his career long, and his 55 total receiving yards were a career high.  
Admittedly, Knox is an athlete of the week candidate each week, putting up consistent performances every game. With 101 rushing yards on 25 carries against the Owls, he passed the century mark on the ground for the fourth straight game and for the fifteenth time in his career.
Perhaps Knox's biggest carry came in the third quarter when Marshall was trailing for the first time all season. Florida Atlantic had just taken a 9-7 lead on the previous drive, and Marshall was facing a 3rd-and-2. He got the ball and took it 17 yards into FAU territory.
On the next play, Wells hit wide receiver Artie Henry for a 41-yard TD, putting the Herd back on top 14-9. 
With 556 total rushing yards on the year, Knox is second in Conference USA and 10th in the nation. UTSA's Sincere McCormick sits in first place in both C-USA and the nation. 
He is averaging 111.2 yards per game and has 7 rushing touchdowns.