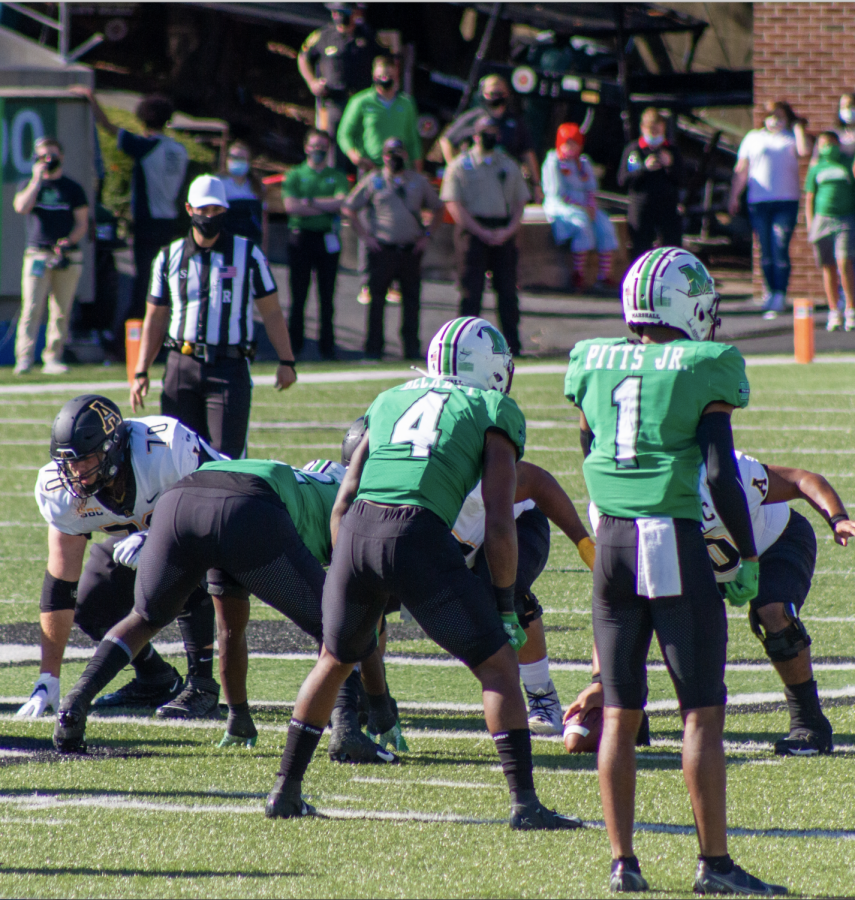 Zachary Hiser
Leading Marshall in tackles in a 17-7 win over Appalachian State, redshirt senior linebacker Tavante Beckett was awarded Conference USA Defensive Player of the Week and Bronko Nagurski National Defensive Player of the Week.
It was the second time in two seasons Beckett has been awarded the CUSA honor, but he was the first Marshall player to receive the Nagurski honor since Vinny Curry in 2011.
Anchoring the middle of the defense, Beckett compiled a career-high 16 tackles with eight being solo takedowns. He also forced a fumble, although it was not recovered by the Herd. 
Moreover, he was at the forefront of a defensive effort that held No. 23 Appalachian State below 100 yards rushing and to an average of 2.9 yards per carry on 33 attempts. 
The Mountaineers were a top 20 run offense a season ago, averaging 231 yards per game, and in its first game of 2020 against Charlotte, the running game looked like it was picking up where it left off, running for 308 yards and 6.2 yards per carry. 
But the Herd, led by Beckett, held the Mountaineers to its lowest rushing total in six years. 
Appalachian State was the 2019 Sun Belt conference champions, and in the first few weeks of this college football season, the Sun Belt conference has proven to be formidable. 
Louisiana beat  the Big-12's Iowa State, and Arkansas State toppled another Big-12 school, Kansas State. Not to mention, Kansas lost for the second year in a row to Coastal Carolina.
None of those three Big-12 schools could hold its Sun Belt opponents below 100 yards rushing, but Marshall held the reigning champs below that mark.
It was one of the most dominant performances a Marshall defense has produced in the Doc Holliday era.  
Beckett led the charge with his speed and physicality, setting a tone for the run defense and the unseasoned linebackers beside him. 
One of the best examples of Beckett's effort and tone in the game came early in the second quarter when the Mountaineers were in Marshall territory and driving to take the lead.
On a second-and-2 play, he ejected himself into the gap toward the running back and stuffed the play to force App State to make a third down conversion. Subsequently, the Mountaineers were backed up by a false start, and on the third-and-6, Beckett forced the quarterback into a sack.
If he wouldn't have made that play on second down, there was a chance App State could have continued its drive all the way to endzone, taking the lead and shifting the momentum of the game.
Beckett made sure his defense would not let the momentum shift, and it never did.
Grant Goodrich can be contacted at [email protected]