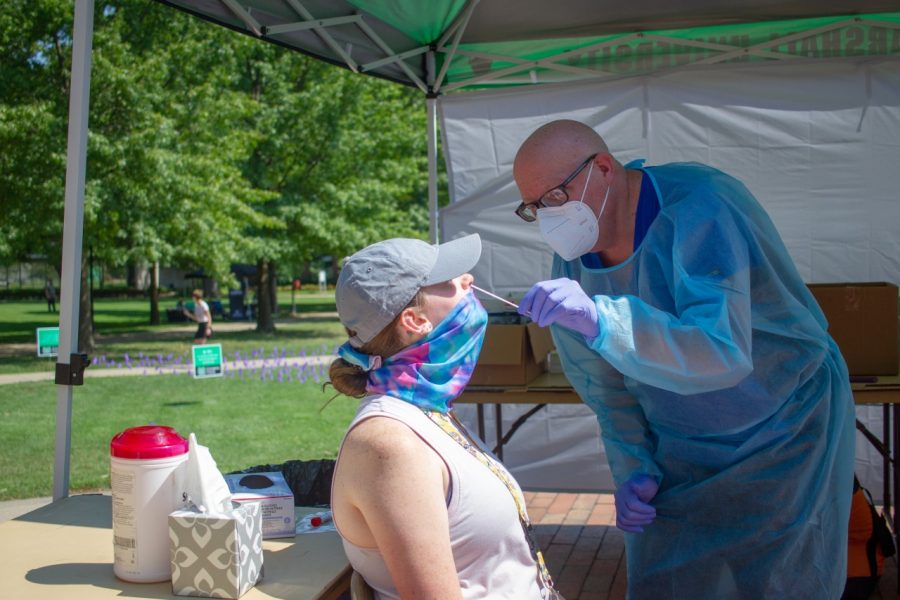 Zachary Hiser
Beginning this week, Marshall University will test about 60 randomly selected students, staff and faculty members for coronavirus each weekday until Nov. 20, per information released by the university over the weekend.
"This phase—referred to as sentinel surveillance testing—means the university will be continually testing randomized cross sections of cohorts from across the campus community, including those who may have no symptoms," Friday's press release states. "The goal is to help detect potentially infected individuals and to keep them from infecting others."
Individuals who are randomly selected for testing will be notified via e-mail and required to stop by the tent on the Memorial Student Center Plaza at a specific time between 9 a.m. to 1 p.m. Monday through Friday.
The press release states that the 60 tests to be conducted each day will be an addition to the testing protocols being carried out for university football players and staff, who are being tested multiple times each week, per Conference USA requirements.
According to the release, the number of tests being conducted each day has been determined in accordance with the capacity of the lab processing the tests and with intent to maintain a quick turnaround time for results.
The university will post online the number of tests conducted and the number of positive results just once each week, "usually on Mondays."
As of this Tuesday, data posted on the university's coronavirus webpage indicate results of the testing period from Aug. 30- Sept. 5, before the start of the new phase of testing.
Per this data, 100 Marshall students currently are in quarantine—or "isolation"—off campus, and 16 students are being quarantined on campus. Nine employees reportedly are quarantining off campus as well.
The data show that 11 new student cases and 2 new employee cases were confirmed between the testing period of Aug. 30- Sept. 5.
According to the university press release, coronavirus tests taken on campus moving forward will be processed with results expected to be available within 24-48 hours after testing, an improvement on the turnaround time of tests previously conducted on campus.
It is possible that walk-up testing for individuals on campus may be limited on some days moving forward as a result of the newly-implemented random testing plan.
It is possible some students may be randomly selected for testing more than once in the future. Students selected for random testing need to bring their Marshall ID to the testing site on the day their test will be conducted. All testing will be conducted free of charge to selected students, staff and faculty members.
When a student or staff member tests positive for the virus, the university's trained contact tracers will immediately seek to contact the individual to begin the process of isolation and to get in touch with anyone who the individual may recently have been in contact with.
According to the press release, the university's management plans and operating procedures were developed through cooperation between Marshall's Office of Environmental Health and Safety and the Cabell-Huntington Health Department.
For more information regarding the coronavirus pandemic as relates to Marshall University, visit https://www.marshall.edu/coronavirus/.
Douglas Harding can be contacted at [email protected]