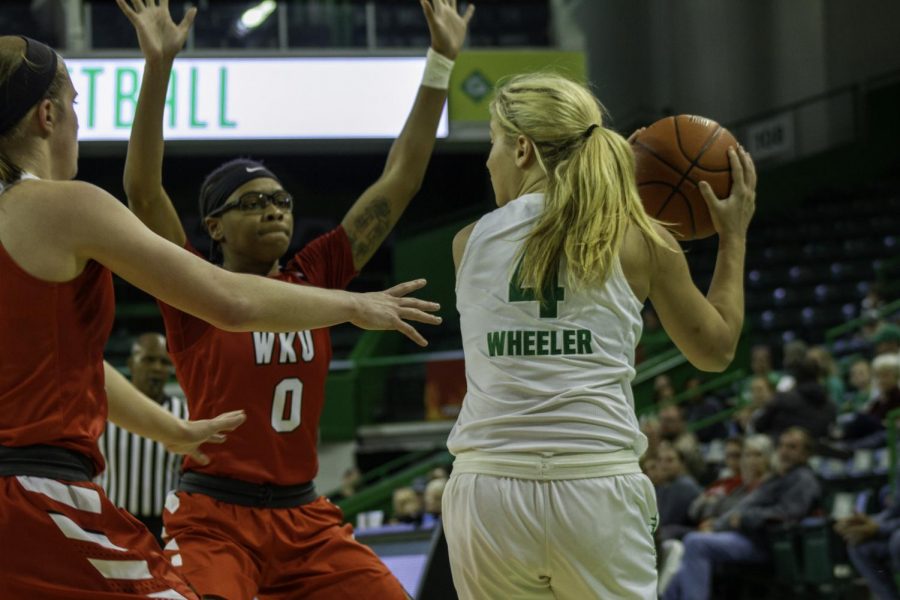 Zachary Hiser
The Marshall University Thundering Herd women's basketball team will travel to Bowling Green, Kentucky to take on the Western Kentucky University Lady Toppers at 7 p.m. Thursday, and then will return home to play host to the Old Dominion Monarchs at 3 p.m. Saturday.
The Herd is entering the week with an 11-13 record (6-7 Conference USA) after a sweep over University of Texas at San Antonio and University of Texas at El Paso last week. The Lady Toppers are entering the contest with a 18-6 record (10-3 C-USA) after an 85-57 win over UTSA Saturday. The Monarchs are coming into the game Saturday with a 22-3 record (12-1 C-USA).
"They'll have a really short turn around when they get off that bus before the preparation for Old Dominion," Herd Head Coach Tony Kemper said. "I believe Old Dominion is on the road for two, but obviously it's not going to be a typical travel partner two. It doesn't happen very often where you're split, but we are this week, so we have to figure out a way to perform in this scenario." 
The Western Kentucky Lady Toppers are at the top of the conference, but the two teams have matched up pretty well since the last two times they have played. The Herd has struggled at E.A. Diddle Arena. 
"That's a tough place to play, they are undefeated at home this year (10-0)," Kemper said. "They usually are pretty much every year, it's hard to win down there. It's an atmosphere we need to learn how to handle and I think we should be excited to go down there."
On Saturday, the Herd play host to the Old Dominion Monarchs, a team who defeated Rice 66-59 last week to take over the No.1 spot in the conference. Coach Kemper said he hopes his team will have a better finish on Saturday then it did when the Herd went to ODU and were in the game, but collapsed in the fourth quarter. 
"You can't really look much at the other game between us," Kemper said. "I thought we played hard and battled, but I know we need to play a lot cleaner and have a better sense of structure when we play them Saturday."
Thursday evening tipoff is set for 7 p.m. EST/6 p.m. CST and Saturday tipoff is scheduled for 3 p.m.w 
Spencer DuPuis can be contacted at [email protected]