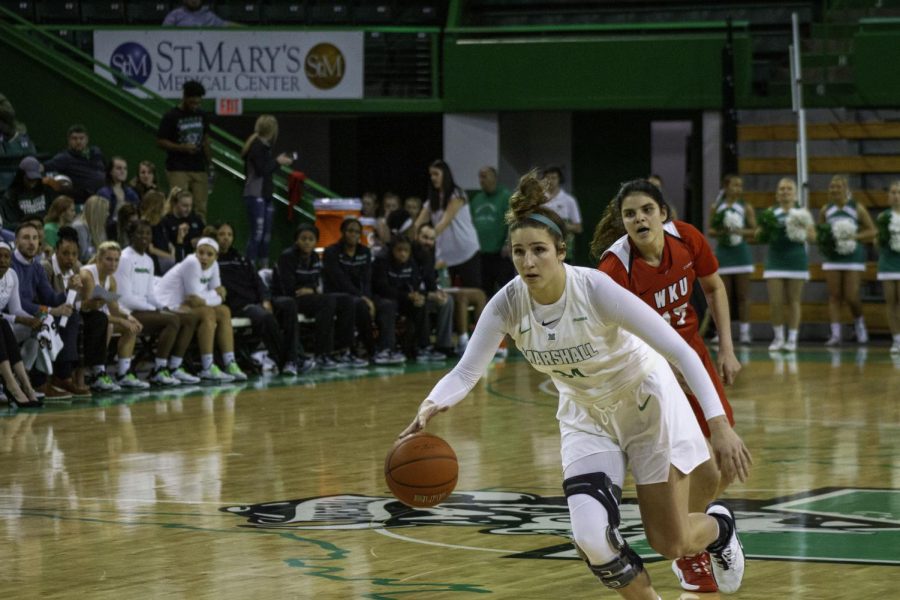 Zachary Hiser
The Marshall University Thundering Herd women's basketball team comes home to play host to the University of Texas-San Antonio Roadrunners at 6p.m. Thursday and the University of Texas-El Paso Miners at 1 p.m. Saturday.
The Herd is entering the week with a 9-13 record (4-7 Conference USA) after a split on the road last weekend. The Roadrunners are entering the contest with a 6-16 record (2-9 C-USA) after a 67-47 loss to Charlotte Saturday. The Miners are coming into the game Saturday with a 13-9 record (6-5 C-USA).
Thundering Herd Head Coach Tony Kemper said that although his team will have the home court advantage, consistent play is key.
"Me as their coach, I would like to see them play more consistent at home," Kemper said. "That starts in Thursday with UTSA, you've got a log jam in the conference, at least right in the middle of it. The key is we need to find the energy, the guts, the shot making it takes to win two at home."
The UTSA Roadrunners come in tied for last place in the conference, and Kemper said the other team at the bottom of the conference, FIU, came in and took one from the Herd.
"There is no margin of error for us," Kemper said. "FIU is also down there (in the standings) and they got us in (the Cam Henderson Center) because we weren't ready to get after it. There are good teams in this league, and we've played with some at the top and we have played with some at the bottom."
The UTEP Miners are tied for sixth in conference play and Kemper said the Miners have made a big improvement this season.
"I think they finished 12th in the league, and obviously they got us in the tournament," Kemper said. "They've had a good year. They won a lot of games in non-conference and got hot early. They're unique, they press and are very long at the guard spot. They are very different in a lot of teams that we play because of their persistence in their press play."
Evening tipoff is at 6 p.m. on Thursday and 1 p.m. on Saturday.
Spencer DuPuis can be contacted at [email protected]