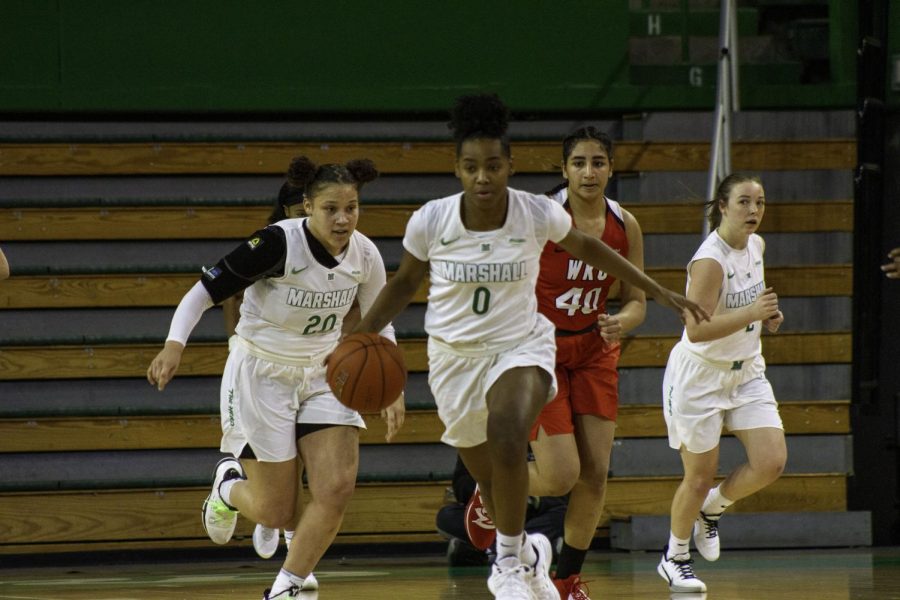 Zachary Hiser
The Marshall University Thundering Herd women's basketball team will travel south for a two-game road swing that begins Thursday night at Southern Miss and concludes Saturday afternoon at Louisiana Tech.
The Herd is entering the week with an 8-12 record (3-6 C-USA) after a 85-75 win over Florida Atlantic Saturday afternoon. The Golden Eagles are entering the contest with an 11-9 record (3-6 C-USA) after a loss at Charlotte, 63-59, Saturday. The Lady Techsters come into the game Saturday with a 10-10 record (2-7 C-USA).
Thundering Herd Head Coach Tony Kemper said that he knows this could be a big week for the Herd to move up the standing if it can get wins.
"This is a tough road trip," Kemper said. "We are going to have to come down with our 'T's' crossed and our 'I's' dotted to come down the stretch with a chance to win roads, which is difficult to do. We are going to have to continue to knock down some shots." 
The Southern Miss Golden Eagles come in tied with the Herd for eighth place in conference play, and coach Kemper said he knows that they are going to be a tough team to play.
"Southern Miss is very athletic," he said. "Over the course of the last couple years, that's the thing we've had trouble getting ready for, their tough to box out. We've got to be physical and chase rebounds. We have to be able to handle pressure; they do a nice job of changing defenses."
On Saturday during the Herd's game against the LA Tech Lady Techsters, Kemper said that the Herd has to key in on a certain player, and that might just make its job easier.
"They've got a guard that is awfully good, she has had some very good games," Kemper said. "It seems to me that they are playing very similar to how they did last year. So, we are going to have to guard them and make them earn baskets."
On Thursday evening, tipoff is 7 p.m. EST and Saturday tipoff is scheduled for 3 p.m. EST.
Spencer DuPuis can be contacted at [email protected]