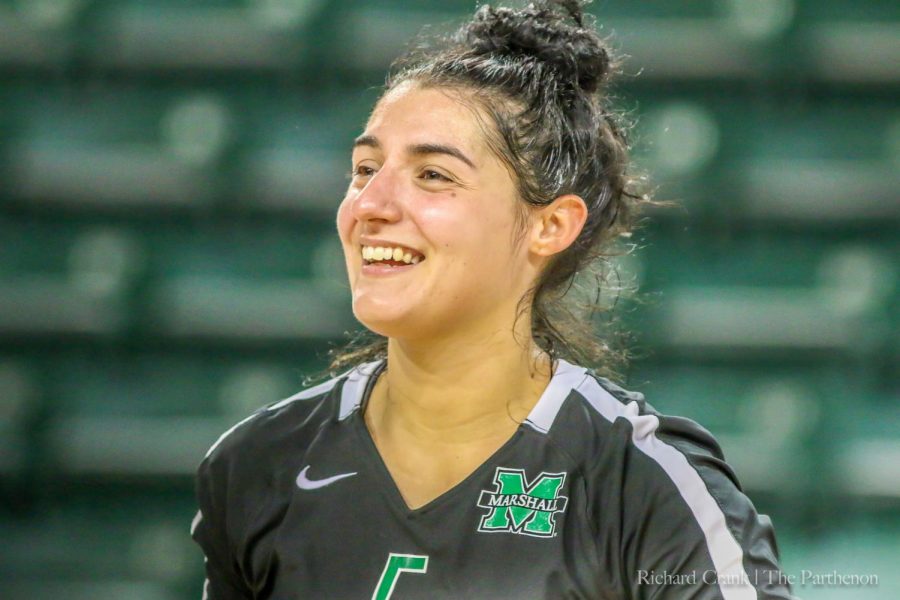 Richard Crank
Marshall University volleyball pulled off the 3-1 victory over University of Alabama-Birmingham on Thursday, Nov. 14 at the Cam Henderson Center.
With this win, Marshall moves to 18-9 on the season with a 9-5 record in Conference USA and UAB drops to 12-14 (4-9 C-USA).
"More than anything, we were happy to send the seniors out with a win," Head Coach Ari Aganus said.
UAB started set one on top but after five straight errors, Marshall took over the lead and started to pull away. The Herd went on its second five-point run going up 17-9 from a pair of Sarah Schank (sophomore outside) kills, a Joelle Coulter (sophomore outside) kill, a service ace from senior libero Amber Weber and one UAB error.
A sophomore middle blocker Isa Dostal kill and then another UAB error gave Marshall the first set victory, 25-18.
Set two stayed neck and neck until a pair of UAB errors and kills from redshirt junior outside hitter Ciara DeBell and junior middle blocker Destiny Leon gave Marshall the first run of the set, going up 15-11. A Dostal kill gave Marshall the 25-21 set two victory.
While Marshall took set one and two, UAB won set three, 23-25. Five UAB points were due to errors from Marshall, but redshirt sophomore outside Alex Kells and junior outside Abby Carlile both had six kills. Redshirt junior outside Emma Mitchell followed with five kills.
Marshall wrapped up the game with a set four win. Game four started much like the rest with back and forth however, with a 6-0 run for Marshall with three UAB errors and three DeBell kills. Marshall took the lead and never looked back. The game ended with back-to-back kills from DeBell.  She finished the night with 21 kills.
While DeBell lead the Herd in kills, Schank followed with 14. Junior setter Sydney Lostumo contributed 26 assists. Weber tallied 23 digs on the game.
The team not only honored the three seniors; Weber, senior right side Ivana Trencheva and Michaela Ahlenslager, but  the team also wore all black in memory of the 75 lives lost in the 1970 plane crash.
"It was nice to be able to play my last game at home with my teammates," Weber said. "They all came out and showed what great teammates they were and that they have my back no matter what. It was also nice to play for the 75, that meant the most to us."
When asked about what the team would be focusing on this week, Aganus talked about the team playing together.
"More than anything, playing together," Aganus said. "We have been playing together and then falling off. We need to score at the right times and lessen our errors."
The Herd will travel to the Conference USA tournament next week to face off in the tournament. The Herd currently sits in fourth place in Conference USA.
Sydney Shelton can be contacted at [email protected]